---
World-renowned moneymaking expert reveals…
The "Alpha Signal" Discovery
---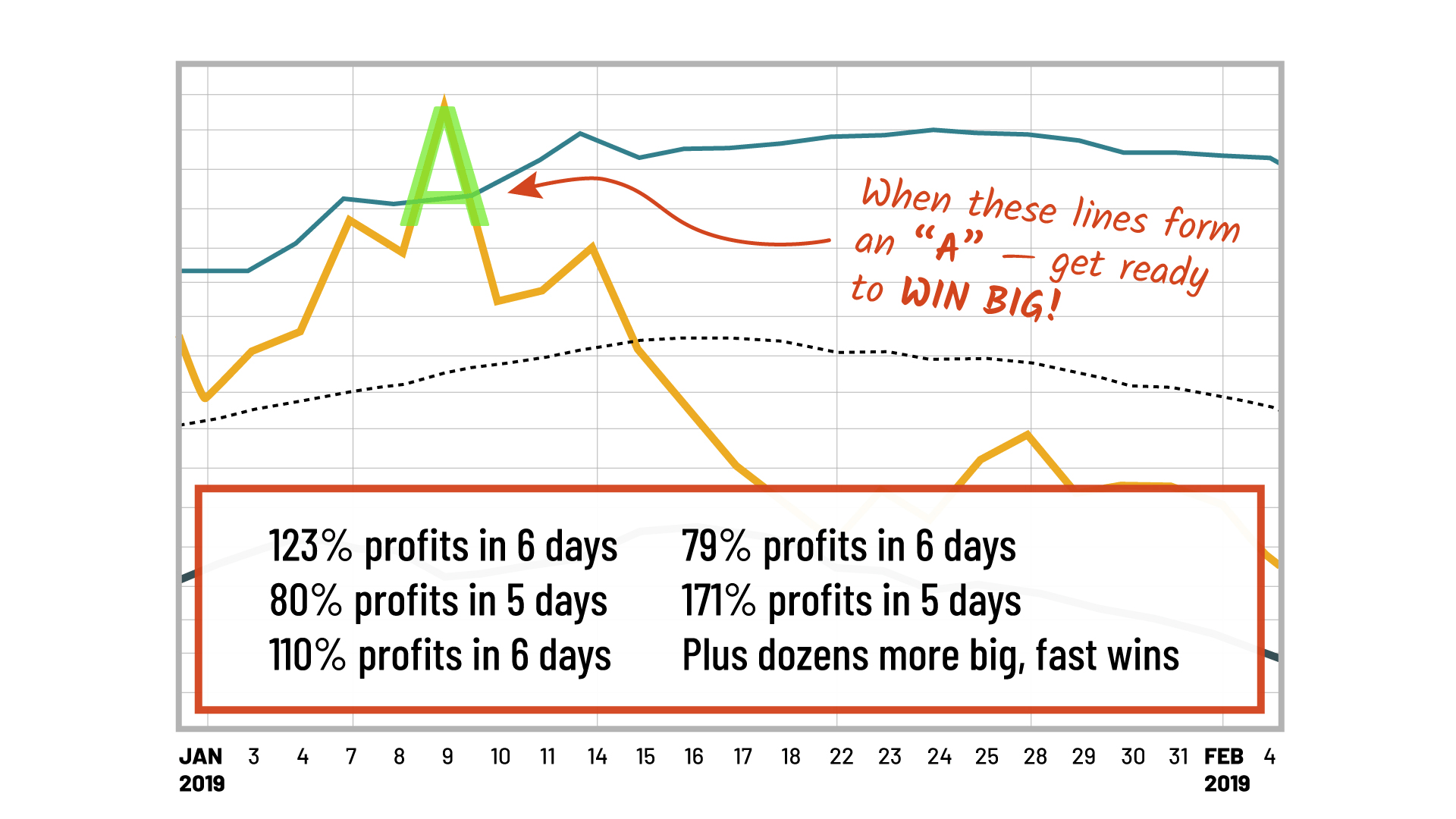 New breakthrough profit indicator shows
data-proven win rate of over 92%…
PLUS the charted potential to outperform
the S&P 500 by up to 250 times over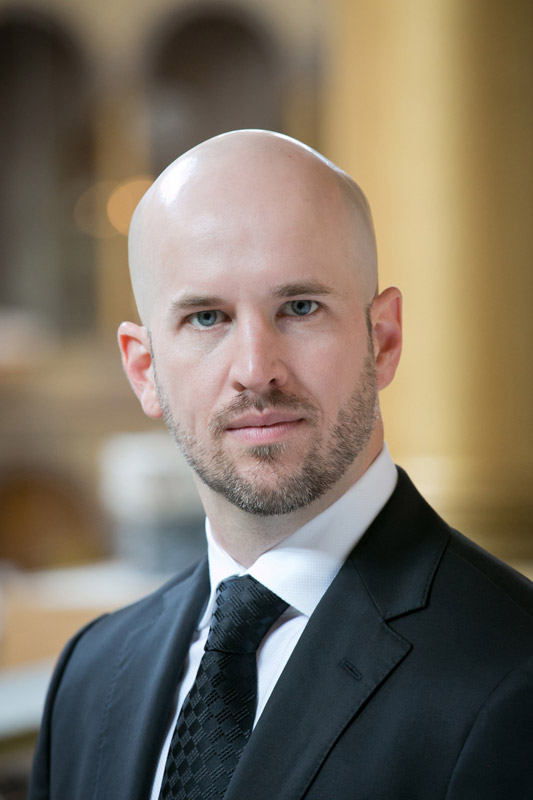 Hello. I'm Graham Summers, MBA.
You may already know me — I'm an Amazon bestselling financial author and frequent "go to" voice in the money media.
I also provide cutting-edge independent profit research to tens of thousands of subscribers in dozens of countries…
And I'm one of the few analysts trusted by the likes of Ron Paul, Albert Edwards and others whose names you might recognize.
Bottom line: I'm known all over the world for my ability to create strategies and systems that can make big money…
In all kinds of markets and economic conditions — booms, busts, you name it.
Why should all this matter to YOU all of a sudden?
It matters because I recently became a team member at Laissez Faire publishing…
The source you already know and trust for info and tactics for your wealthy future.
And my timing in becoming part of this team couldn't be better for you, because…
Right after joining Laissez Faire,
I made the moneymaking breakthrough
of BOTH our lives (here it is)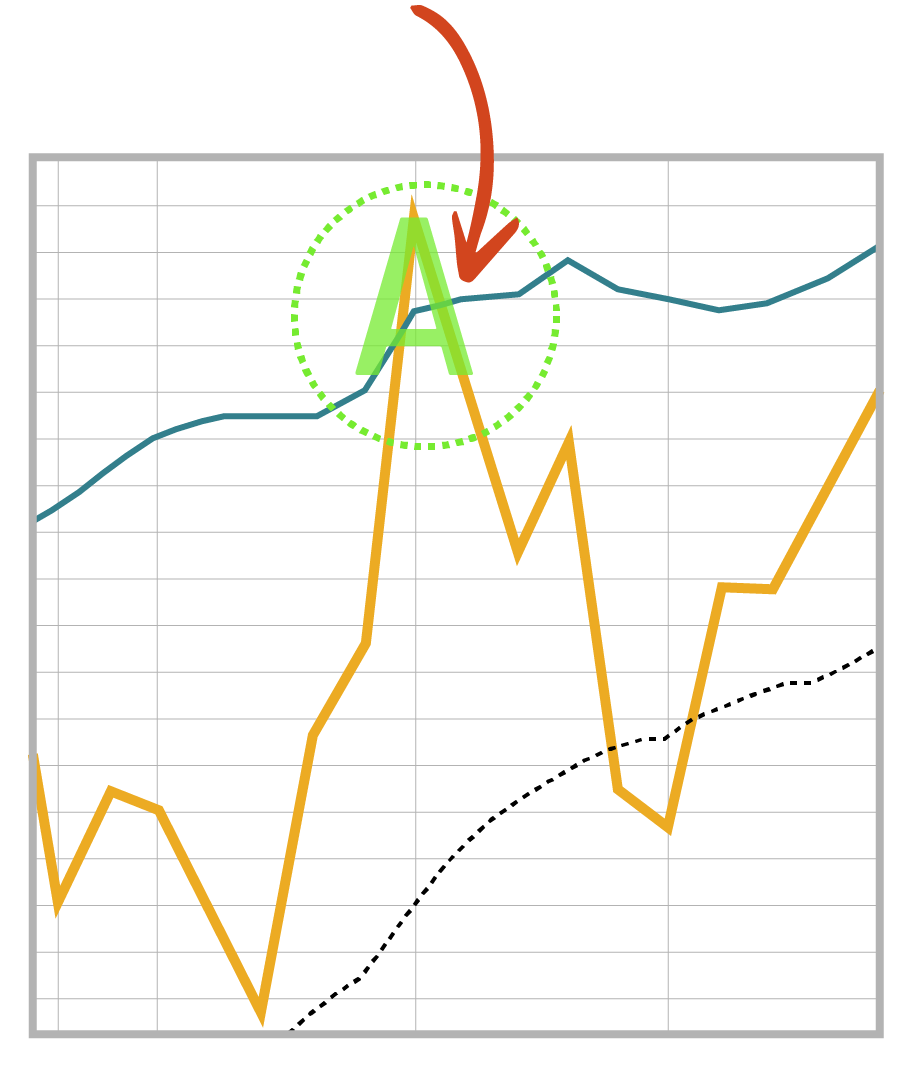 I want you to take a close look at this graph right here.
Don't worry — I'll explain what these lines are shortly (they're important)…
But for right now, I want to make sure you can see the lucrative letter they form.
Look inside the green circle…
See how the two solid lines form a distinct "A" shape right there?
Well, as I'm about to prove to you…
This weird "A" is a never-before-documented
profit indicator that could help bury you in money
like a dog in a pile of leaves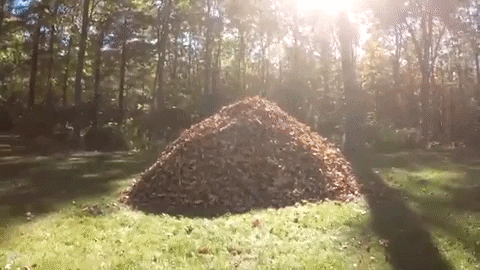 What's more, that cash could start piling up for you today…
With this bulletin, right here.
That's because I'm about to show you a simple new way to potentially tap into an ongoing stream of big, fast windfalls.
For instance, so far we've used this indicator to pinpoint profit opportunities like:
Up to 13 double- and triple-digit trading wins every 11 weeks
Single-trade wins of up to 171% or more — in five days or less
A chance at new double- or triple-digit winning trades
every 9½ days
The best part: All this could happen no matter what's going on in the stock market…
What kind of trade wars America is embroiled in…
Or what shenanigans Iran, Russia, North Korea or anyone else are up to.
And it's all because this spring — just a couple short months ago…
I discovered the incredible profit indicator I've named the "Alpha Signal."
I call it that partly because "alpha" is another name for the letter "A."
But mostly I call it that because in the hardcore trading world…
Where I've been a bona-fide star for over 15 years now…
"Alpha" means PROFIT — a strategy's ability
to outperform the market…
Like the potential to beat the S&P 500 by 250 times over!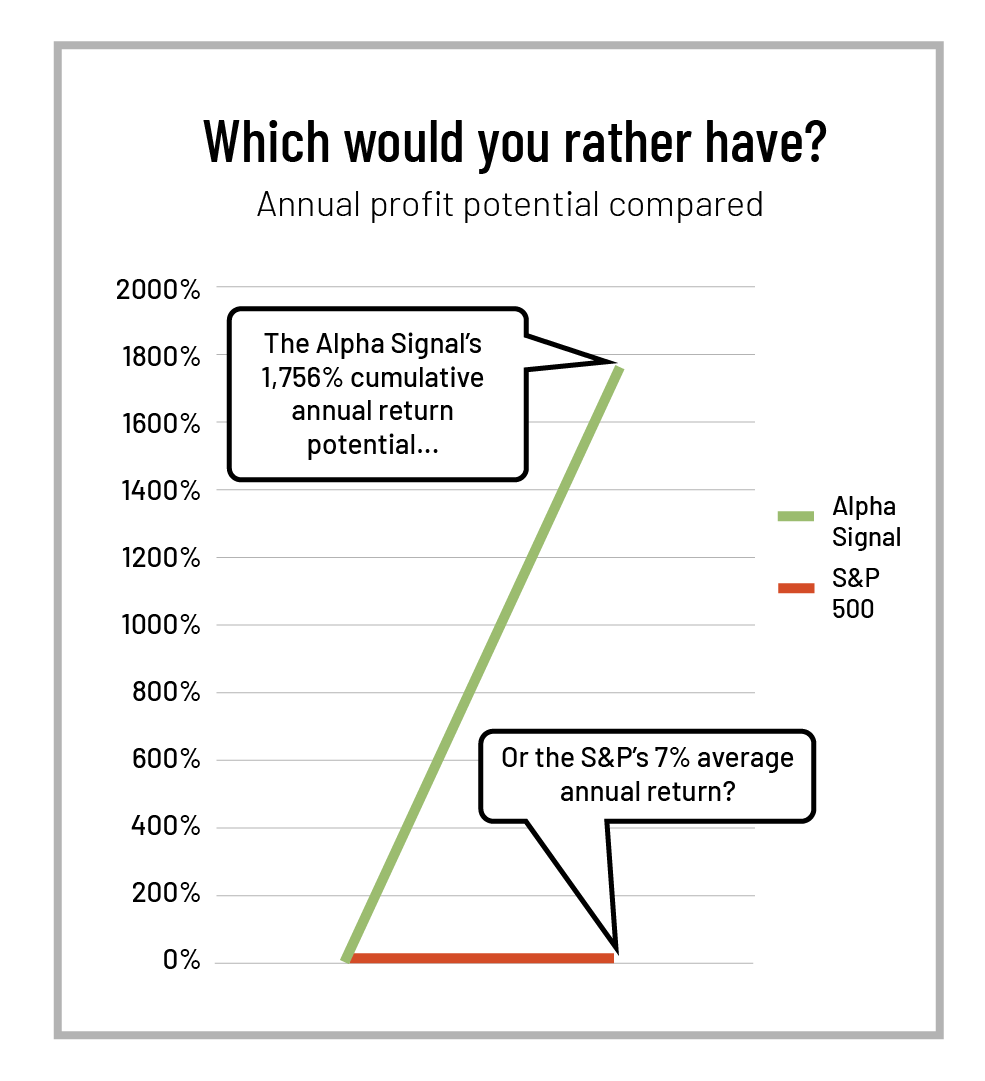 If you let my mind-blowing new Alpha Signal show you the way, that is.
In fact, you're about to see how trading with this breakthrough indicator could've helped you score as much as 1,756% annualized returns on your money…
Or over 250 times as much profit as the S&P 500 in a typical year.
Don't worry — I'll show you the full math on this 1,756% figure shortly.
It's simply the average potential profit per trade revealed in my three phases of Alpha Signal testing (more on these in a moment, too)…
Mathematically extrapolated out over a full calendar year.
Now, of course, theoretical gains based on past data are one thing — trading with real money in the real world is another. We'll talk more about this later.
But again, the simple point I want to make right now is that when we crunch the numbers from my Alpha Signal testing…
It really does reveal at least the potential for 1,756% annual returns — or more than 17 times your money — every year!
How could incredible returns like that even be possible, you're wondering?
Simply put, it's because in all my years of trading and market analysis…
In which I've tested just about every strategy and indicator imaginable…
This "Alpha Signal" is the most accurate thing
I've ever seen at nailing HUGE short-term
profit opportunities
I can say that conclusively because I've just finished developing and testing a revolutionary new trading system around this Alpha Signal…
Somewhat predictably, I call it the "Alpha System."
And now I'm going to give you a quick snapshot of just how much BIG, FAST MONEY this new system could help you make…
Plus its downright shocking accuracy potential.
Now, just to be completely transparent about all this…
What I'm about to show you is NOT just a bunch of cherry-picked wins…
But the actual findings from three phases of testing I put my new Alpha System through from early April through late May of this year.
These testing phases included analysis of recent data, real-time "paper trading," and an exhaustive "back test" in three years' worth of market data.
And yeah, these results are incredible. Borderline unbelievable, actually…
Yet they're 100% true — and fully backed up by the extensive research I'm about to walk you through.
So let's dive into those incredible numbers right now…
Alpha System Test Phase One:
Five fast winning scenarios of up to
110% profits in just 10 days
This initial phase of Alpha System testing took place in early April.
In this test, I analyzed ONLY the previous month's worth of market performance…
In a very specific pool of securities, which we'll talk more about later.
I did this to gather some initial "quick and dirty" historical validation of my Alpha System's ability to steer you toward big, fast short-term profits.
This was the first trading scenario, which had opened up on March 7: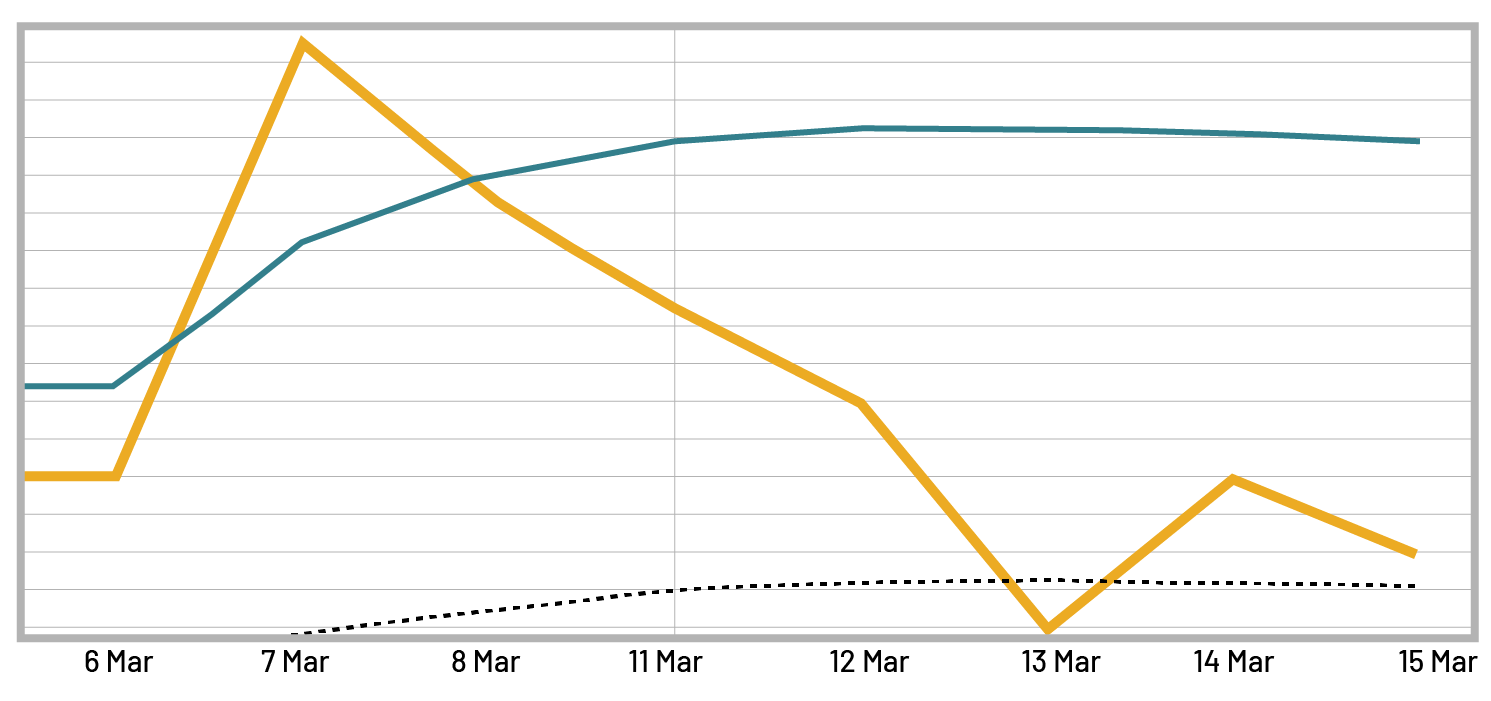 Now, again, I'll explain all the details you'll need to know as we go along here…
Exactly what these lines represent, exactly what's being traded, and everything else.
But for now, I want you to understand how trades get triggered in my system…
Because that's the crux of how it could help you get richer than rich, faster than fast.
To that end, can you spot the "A" there — the Alpha Signal?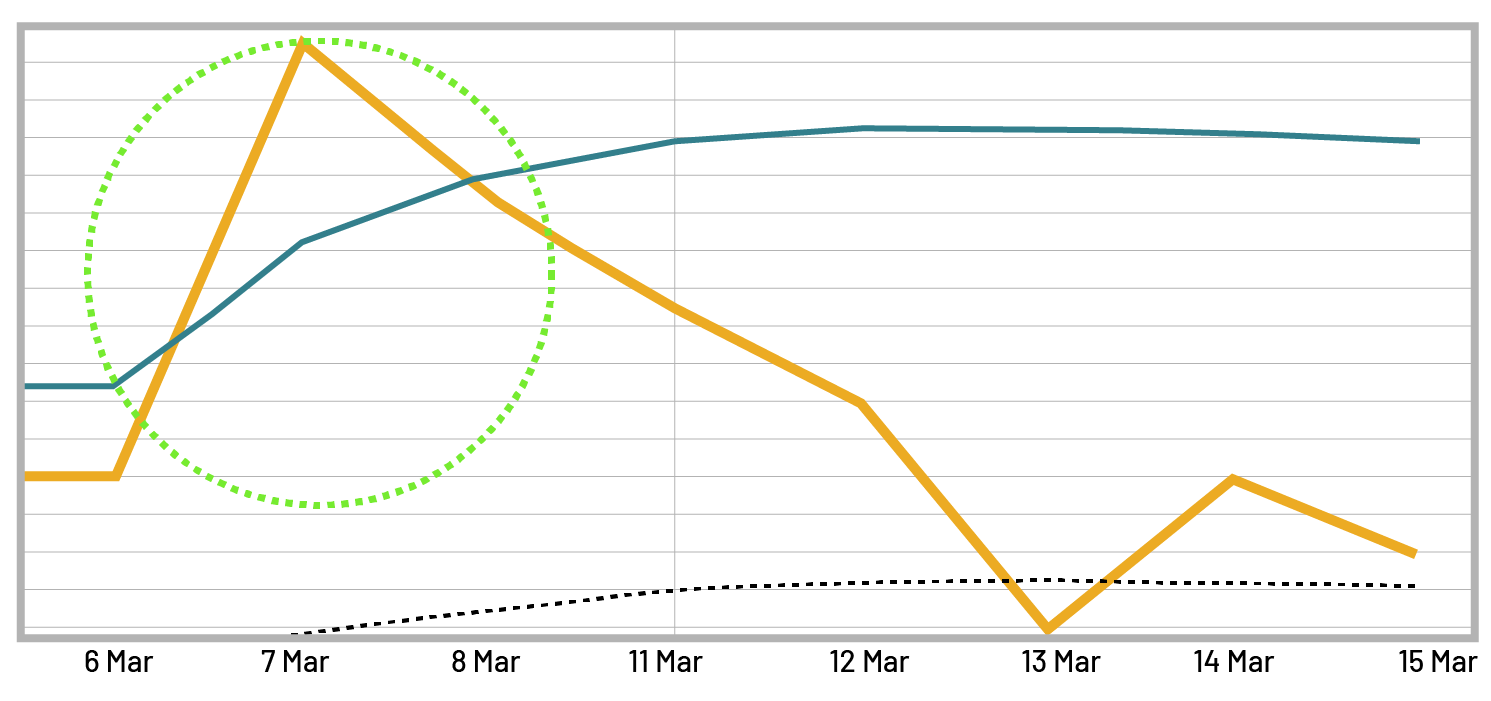 As you can see, it doesn't always look perfectly proportioned…
But it's a distinct "A" shape nonetheless.
Under my new Alpha System, the point of this "A" is the "buy" trigger…
Or the ideal moment to put your money IN play on this trade.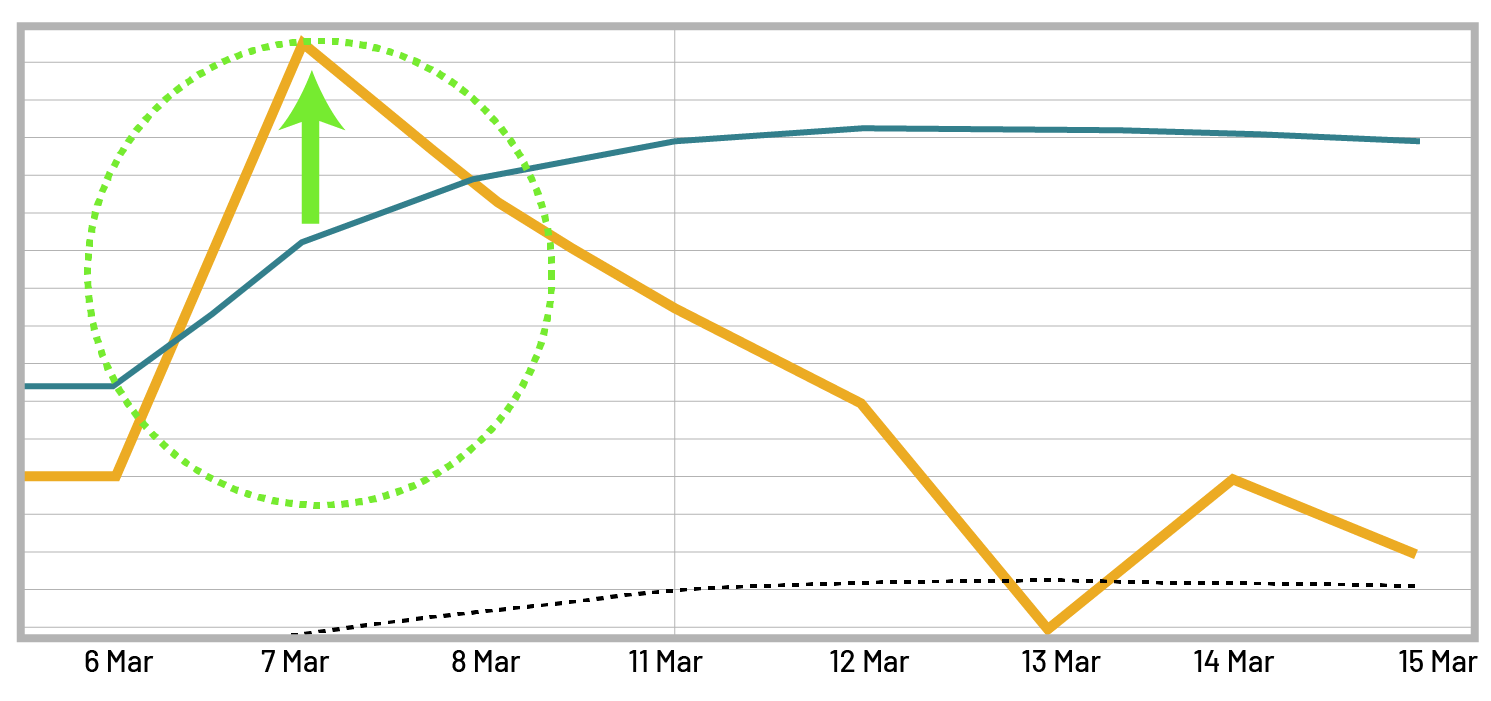 The "sell" trigger of this system is when the solid black line that forms this "A"…
Subsequently crosses the dotted black line a short time later.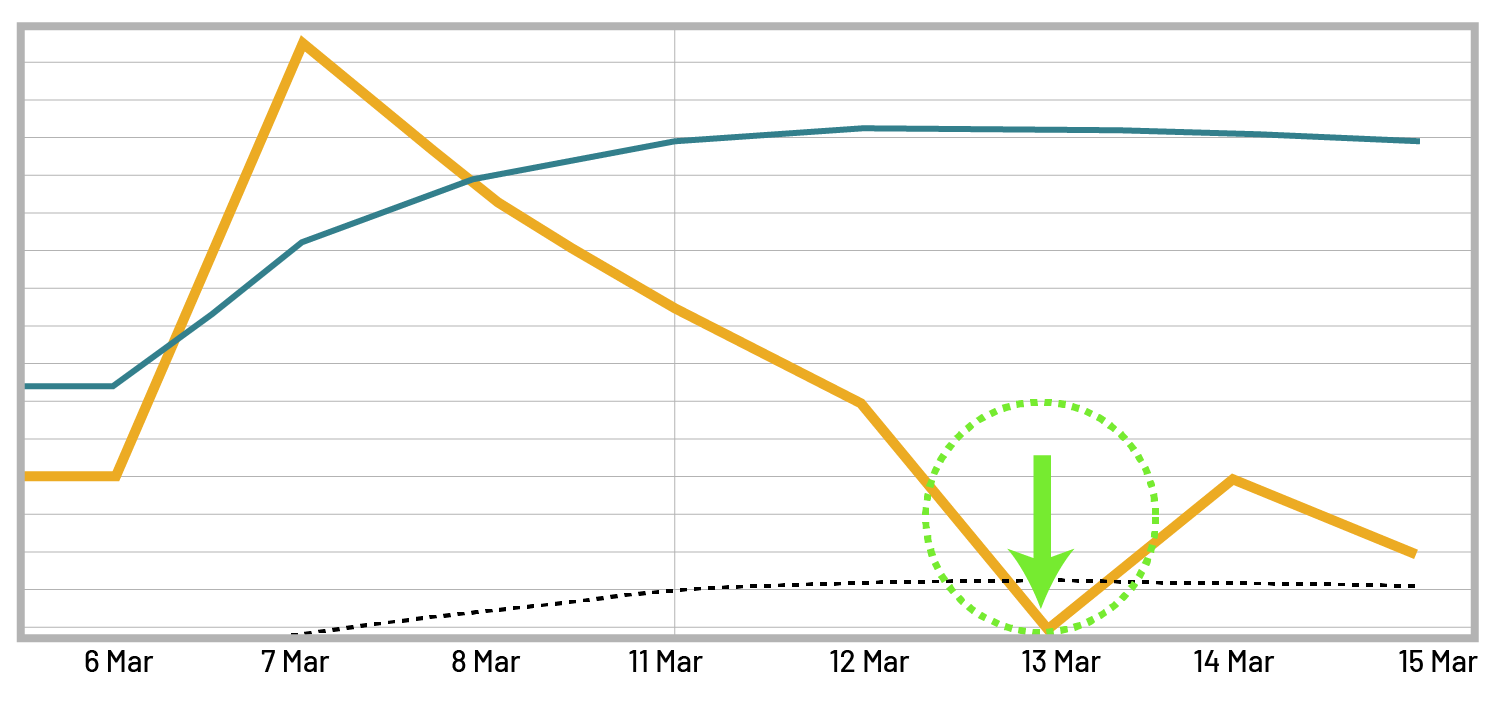 That's the ideal moment to cash OUT of an Alpha Signal trade under my new system.
And in this example trade's case, that "sell" trigger showed up on March 13…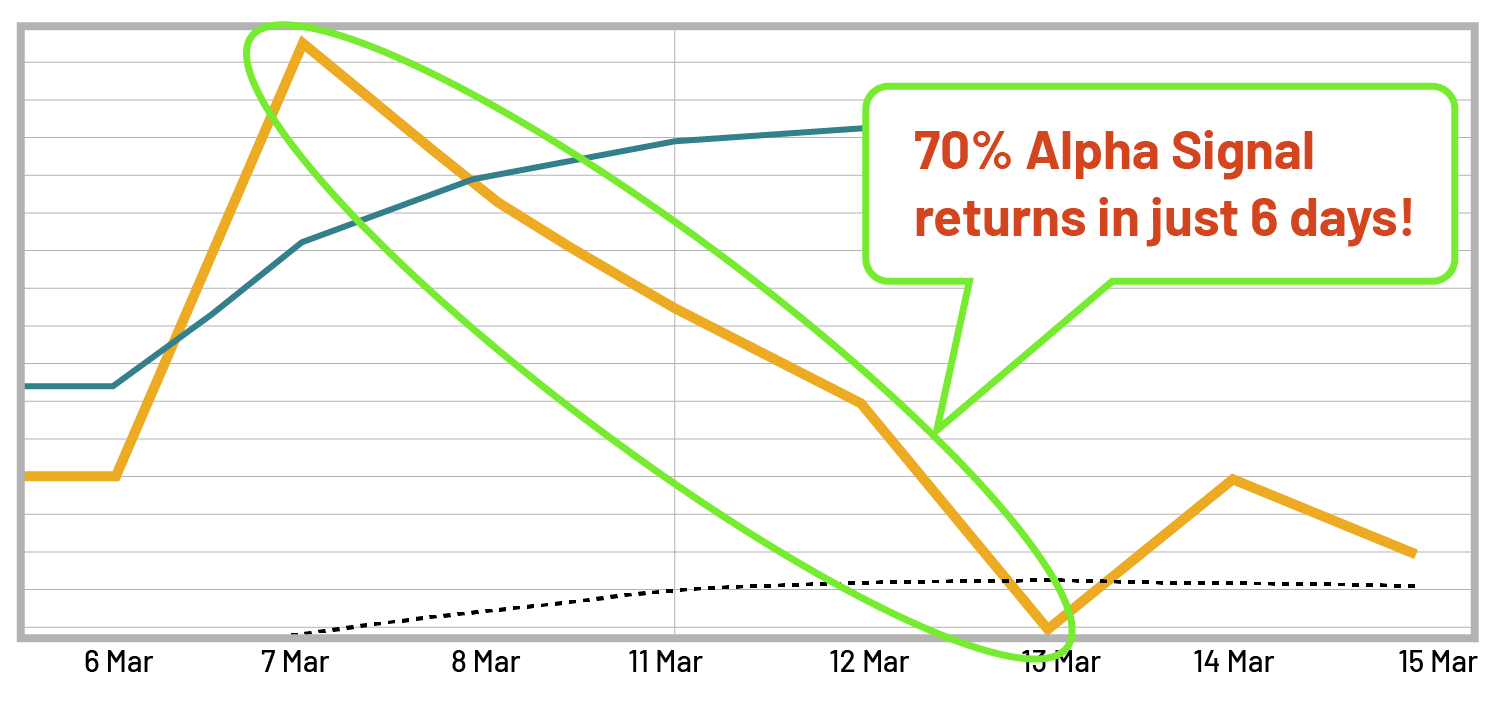 Making the return potential a stunning 70% in just six days.
OK, so you're clear on my new Alpha System's triggers, right?
The peak of the "A" in the solid black line means buy in…
And when that solid line crosses the dotted line shortly after, it means cash out.
There's a lot more to it than this, of course…
But that's really all you need to know right now to see the big, fast profit potential in these scenarios.
With that in mind, let's move on to the second example trade.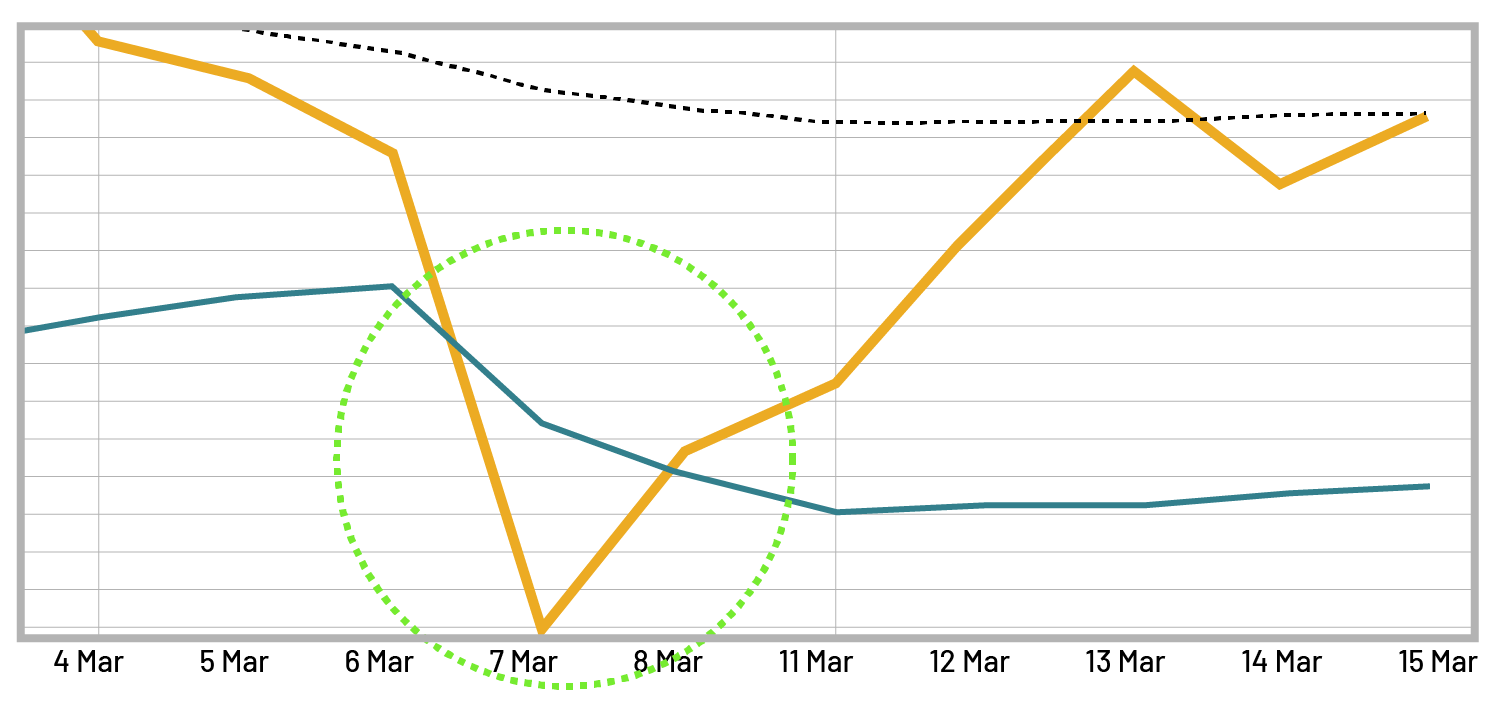 The Alpha Signal unfolded on March 7 for this one, too…
But it looks a little different, doesn't it?
That's because it's an inverted signal, like an "A" turned upside-down.
As you'll soon see, however — aside from its upside-down appearance…
This signal is traded exactly the same way as the standard, right-side-up version.
You buy in at the point of the inverted "A" in the solid black line…
And cash out when that solid line then crosses the dotted line again.
Just like in our first example, that event also happened on March 13…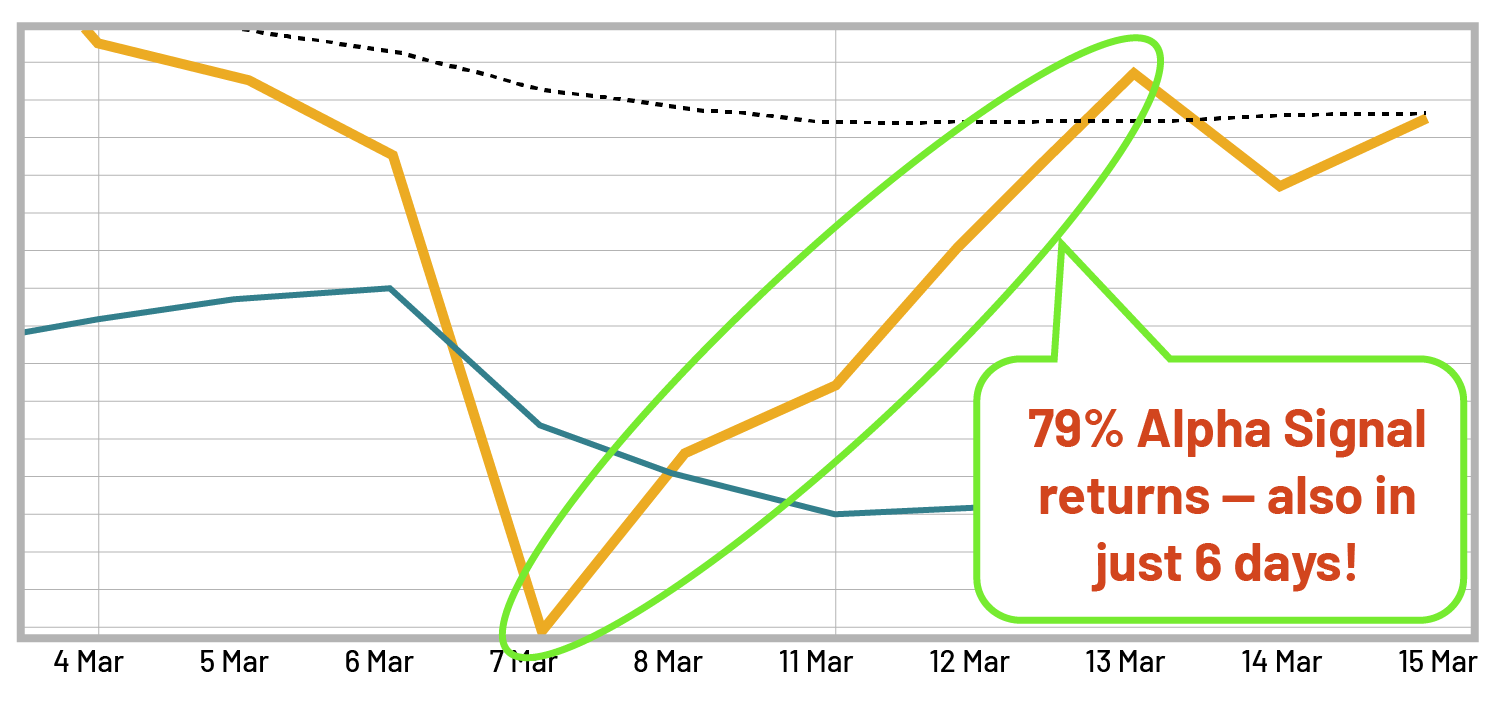 But this trade scenario would've posted even stronger six-day gains of 79%.
To be clear: It's a total coincidence that these first two examples had the same indicated "buy" and "sell" trigger dates.
And just to keep the irony rolling on that point…
This third example trade ALSO opened up on March 7 — a freakish day for Alpha Signals, as it turned out.
As you can see, it's another inverted signal, and the "A" shape is a bit distorted.
But it's definitely there, if you look for it.
You see it in the lower left?
Instead of closing in six days, however…
This potential Alpha System trade scenario showed the "sell" trigger on March 18.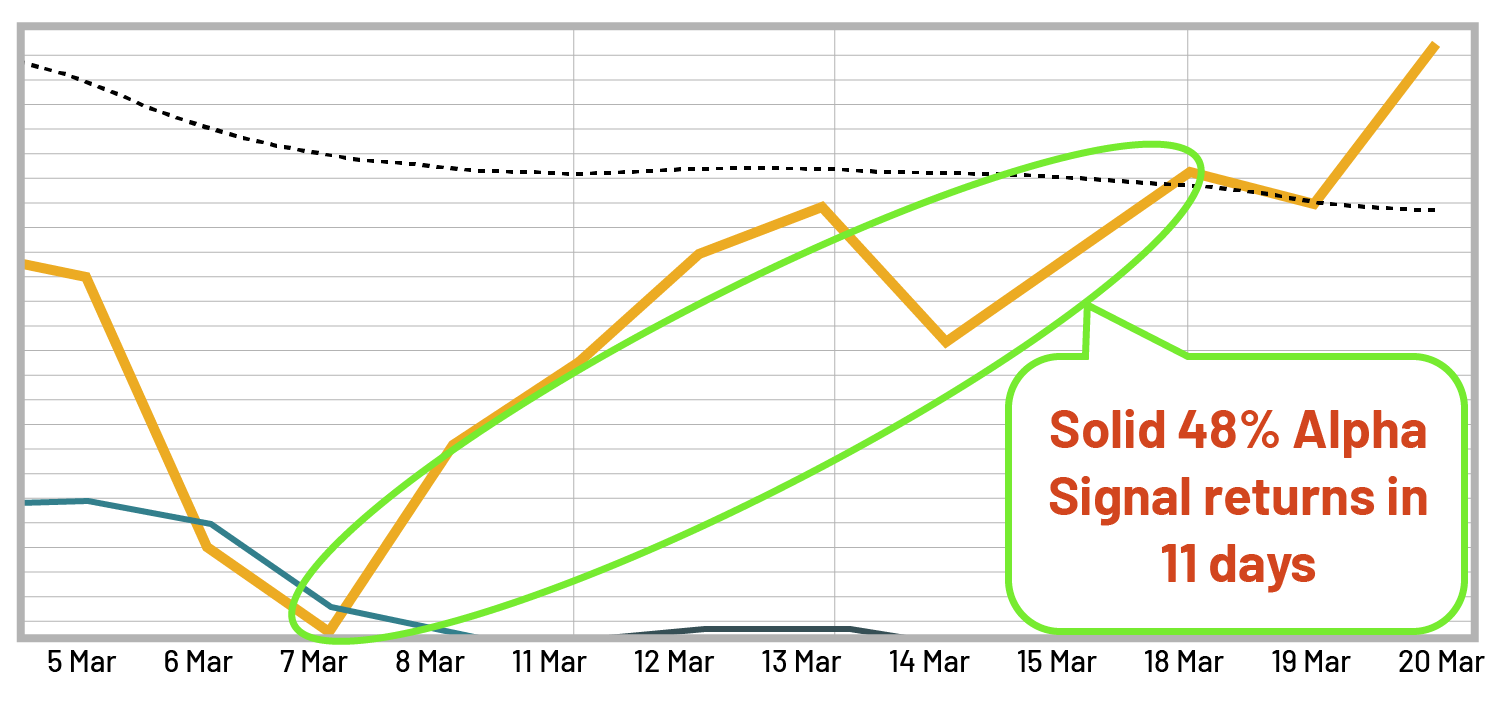 The net result: an opportunity for 48% gains in 11 days.
Take it from me — that would still have been a fantastic return in any seasoned trader's book.
Phase One's fourth example trade opened up just two days later, on March 20…
And it displayed a more obviously "A"-shaped Alpha Signal.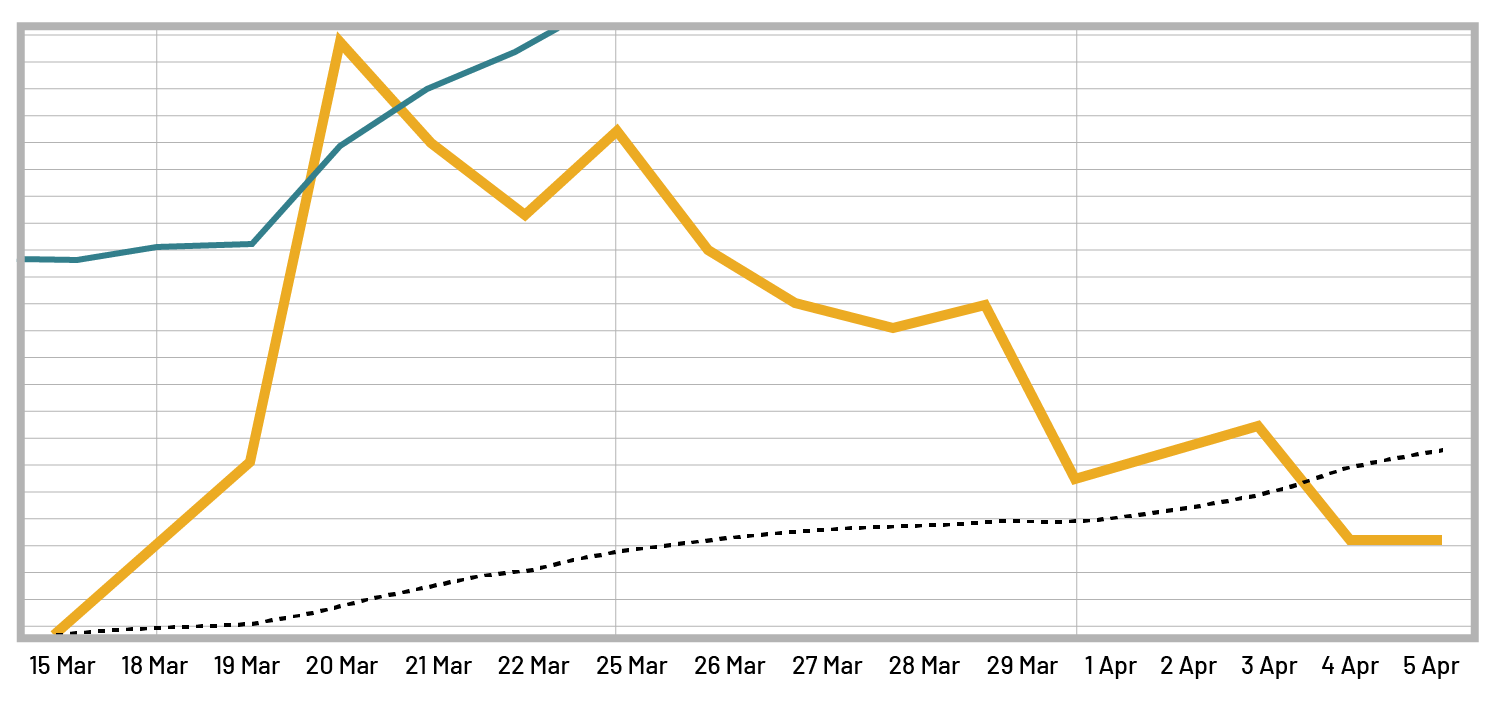 See it there, top left?
By the time the "sell" trigger had developed for this scenario — on the morning of April 4…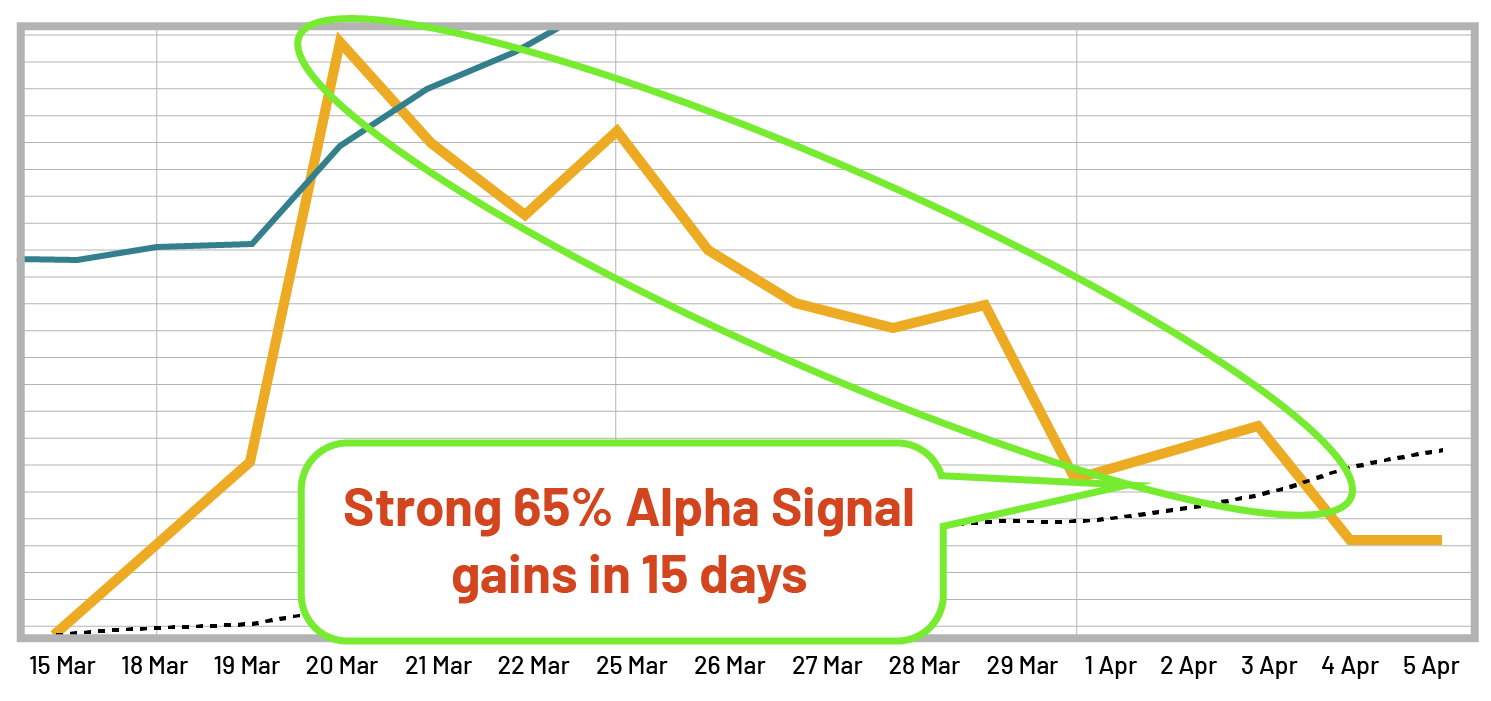 It would've been good for strong 65% gains in 15 days.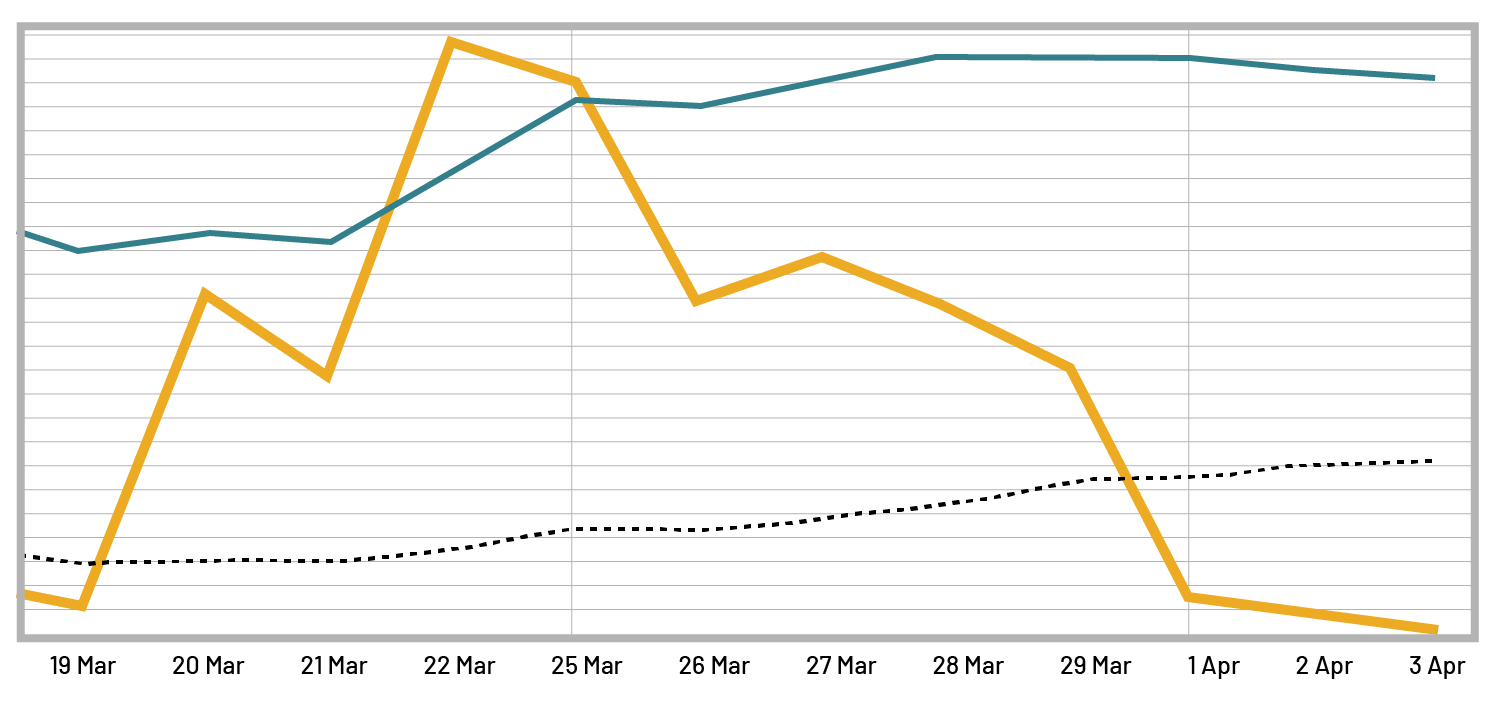 During this same period, the fifth trade example in my "Phase One" test unfolded…
With another slightly distorted — but still obvious — Alpha Signal on March 22.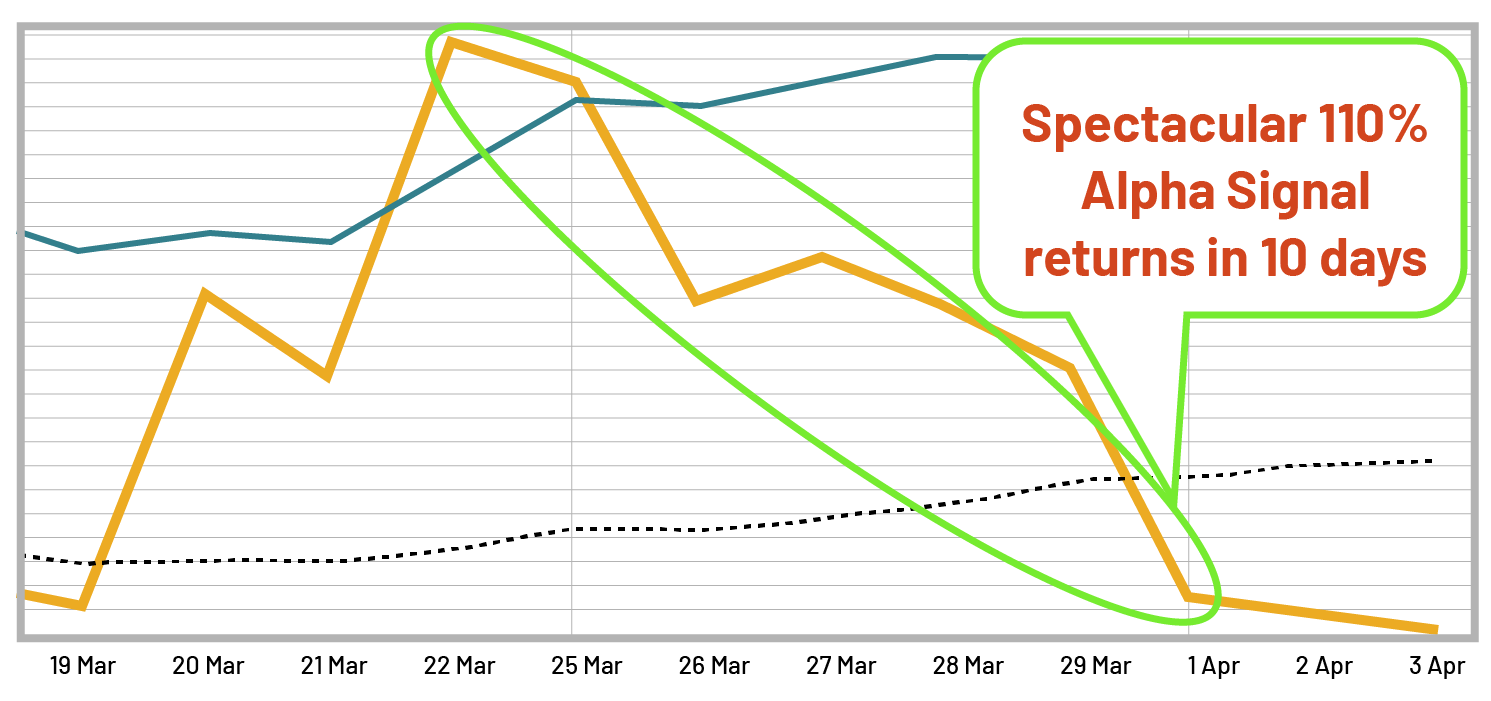 By the morning of April 1, the "sell" trigger flashed in this scenario…
Revealing a spectacular profit opportunity of 110% over the next 10 days.
Just to make sure you understand…
That means this one Alpha System trade alone could've more than doubled your money in only 10 days.
Pretty incredible, isn't it?
Again, there's no trickery going on here.
My new Alpha System really could've put you in front of these five top-performing trade scenarios in April…
My "quick and dirty" concept testing using the prior month's worth of market results plainly showed that.
And yes, they really did indicate potential short-term profit potential of between 48% and 110% profits in six to 15 days.
Of course, as with anything that has to do with money, investing or trading…
Past performance is not indicative of future results. There's no guaranteeing you'll see this caliber of gains — or even that they'll ever occur again..
So naturally, you shouldn't put money into any investment that you can't afford to lose. The market is not the place to bet the farm, for any reason, ever.
But undeniably, these examples show you the sheer power of my new Alpha System.
Because let me ask you something — and be honest…
Have YOU ever nailed five big double- and triple-digit wins in a row in one month?
Thing is, these five winning scenarios are only the beginning…
Wait 'til you see what happened next…
Alpha System Test Phase Two:
Eight real-time "paper trade" wins of
up to 171% profits in five days
After strong concept validation from analyzing the previous month's market data…
I began a second phase of testing: real-time "paper trading" of my Alpha System against the market itself.
I did this by simulating actual trades on various "buy" and "sell" triggers as they developed within my target pool of securities.
Now, I don't want to "chart" you to death here…
So I'll just run you through the results of these eight "paper trades" rapid-fire.
That way I can get to the really exciting part faster: showing you how all this works.
From early April through the end of May, my new Alpha System nailed the following market win opportunities in rapid succession — and in real time:
57% in 1 day
60% in 10 days
123% in 6 days
80% in 5 days
57% in 4 days
171% in 5 days
42% in 7 days
52% in 4 days
Yep, that's another eight winning scenarios in a row, with no losses…
Which is exceptional performance — even for this incredible breakthrough.
Add it all up and you get this: In both my initial testing in a month's worth of recent data — from which I selected those five winning trade examples of 48% to 110%…
Plus the eight straight wins in my real-time "paper trading" of actual securities…
All 13 of the Alpha Signal trade scenarios my new system has identified so far would've resulted in either a double- or triple-digit win.
The average potential profit of these winning opportunities — both real-time and from that first month's worth of data — was 78% each…
With an average hold time of just seven days apiece.
I think anybody would agree — that's borderline unbelievable performance.
And again, it begs a simple question…
Have YOU ever picked 13 straight double- and triple-digit wins of up to 171% — in just 11 weeks?
I didn't think so. But once again, this is only part of the profit picture here…
Alpha System Test Phase Three:
Long-term data-proven 92% win rate —
and 1,756% average annual profits
At the same time I was testing my new Alpha System in recent market data and real-time "paper trading" scenarios…
I was also conducting a third phase of evaluation: long-term back testing.
In other words, proving my system's accuracy and profit potential…
Using the last three years' worth of in-the-books market data as a proving ground.
Now, I'm sure you've seen so-called "back tests" many times before…
For lots of so-called "systems" that promise you 10,000% profits in a year and other such malarkey.
But speaking as a veteran market-trading analyst with a stellar global reputation…
This kind of chicanery flat-out offends me — and it should offend you, too.
That's because these "systems" are often nothing more than some common, garden-variety indicator renamed something fancy…
Then sold to you as some sort of new moneymaking miracle!
And half the time, their profit claims use tricks like compounding…
That means rolling theoretical gains from one trade into another, and another, and so on — until one dollar magically turns into a million dollars.
Problem is, that kind of stuff just doesn't happen in the real world.
And in my experience, when you trade these kinds of "systems" with actual money…
They almost always fall apart, and you're lucky to get out with your shirt.
That's why I wanted multiple layers of testing for my new Alpha System.
Because when several different kinds of testing all point to the same conclusion…
Like shocking potential for big, fast profits without any kind of cherry-picking or mathematical trickery…
You know you've really come up with something groundbreaking.
For my Alpha System, the last piece of this puzzle was a TRUE long-term back test…
And the hard-numbers results more than confirm this system's incredible potential:
An average long-term "win rate" of over 92% in the data
An average of one winning trade opportunity every 9.5 days
Average potential annualized portfolio returns of up to 1,756%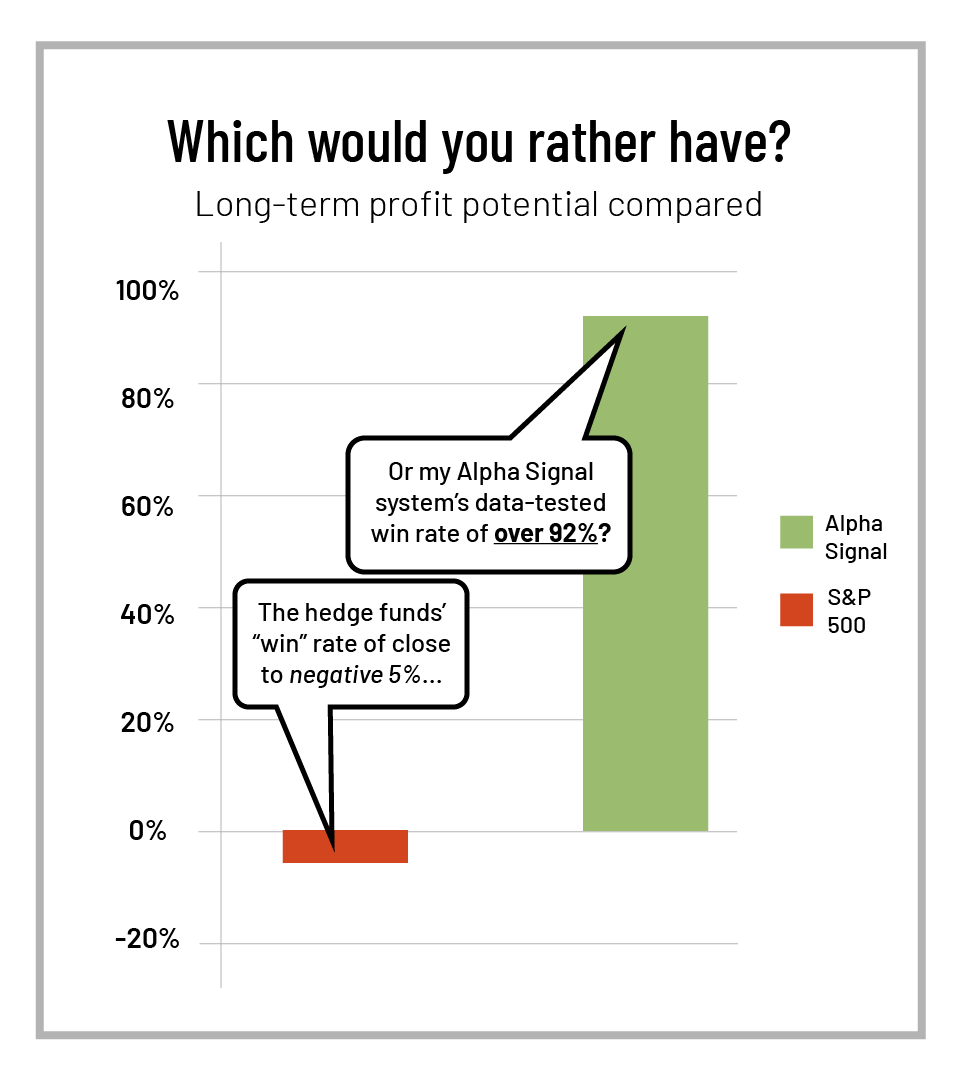 Just to put all this in some perspective…
A recent 10-year study of hedge fund returns showed an approximate win rate of negative 4.8% compared to the broader stock market.
Question is, would you rather have THAT level of "accuracy" working for you…
Or the 92%+ win rate my Alpha System showed in rigorous long-term back testing?
Another little "food for thought" nugget I touched on earlier…
The average annual return of the S&P 500 — year in and year out — is around 7%.
But here's the thing…
Will you be content with the S&P's 7% gains per year…
Now that you know my new system could theoretically help you score up to 1,756% annualized profits?
Before we go any further, I just want to make sure you fully understand what I mean by "annualized" here, and why I'm using this mathematical calculation.
It means taking the average amount of theoretical profit from the 13 trade scenarios I just showed you — which tallied up to 78% per trade, in 9.5 days apiece…
And 1,756% annualized profit potential, if you'd put the same amount of money into every trade.
Now, of course, it's not realistic to expect that you'd have seen these exact same results — or that you'll see them in the future with my system…
I'm just using annualized returns to show you the theoretical power of this strategy compared to other things you may be doing with your money.
Also keep in mind one more thing my system's long-term back testing showed…
The wins could've come in consistently across all kinds of conditions.
The roaring markets of 2016 and 2017, the up-down-crashing, historically volatile market of 2018…
And this year's edgy, uncertain and easily shaken market, too.
Now, I realize this all may seem a little hard to believe — a little too good to be true.
But I promise it won't seem that way in another minute. Not after I've shown you…
How my Alpha System
could've led you to a new double-your-money
profit opportunity every 9½ days…
And with over 92% data-tested accuracy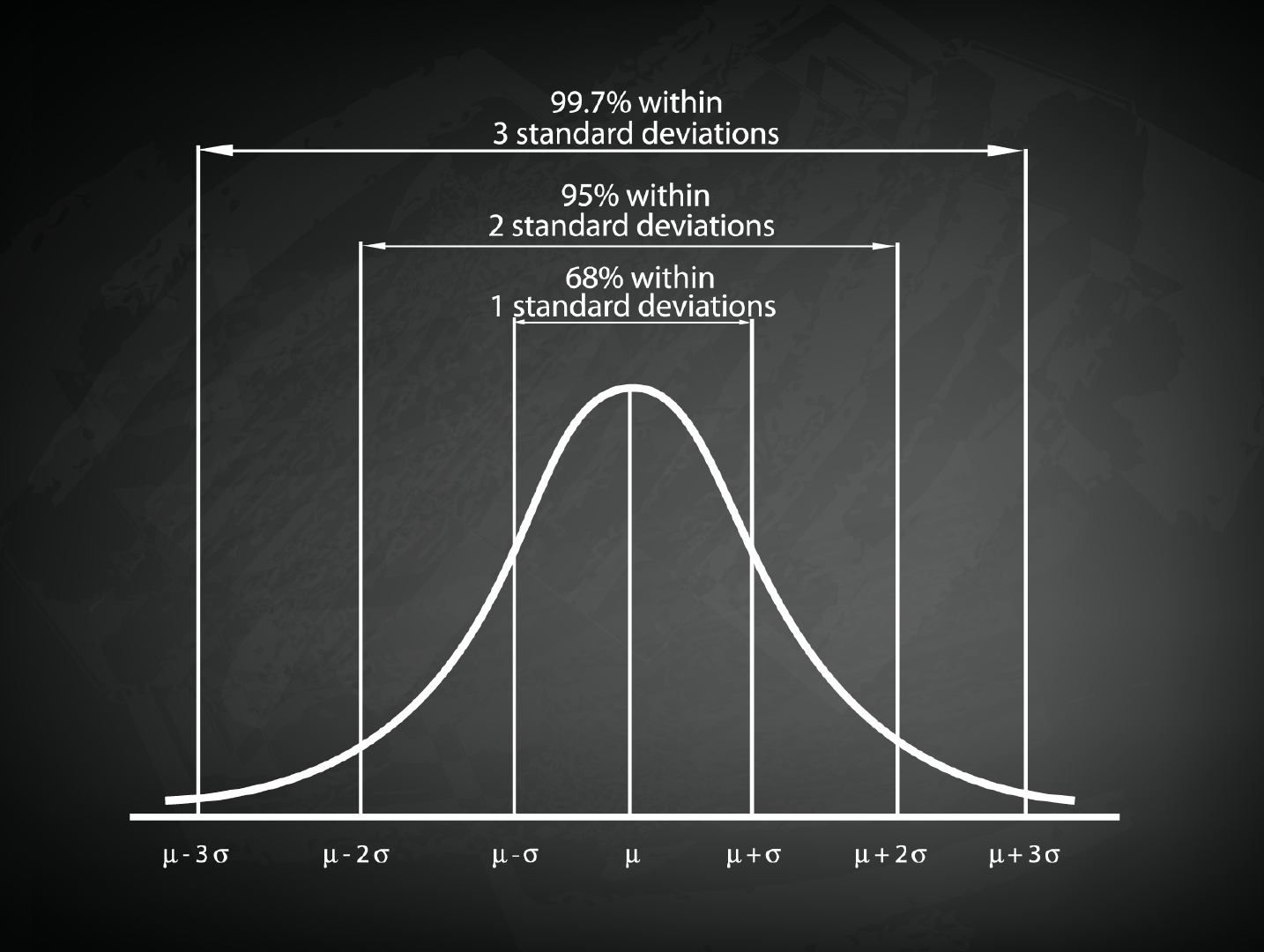 It all starts with this thing right here, which you may recognize…
Yep, it's a bell curve — or "probability curve."
And no, I'm not trying to give you a statistics lesson here.
This bell curve is just the easiest way to show you that in any given data set…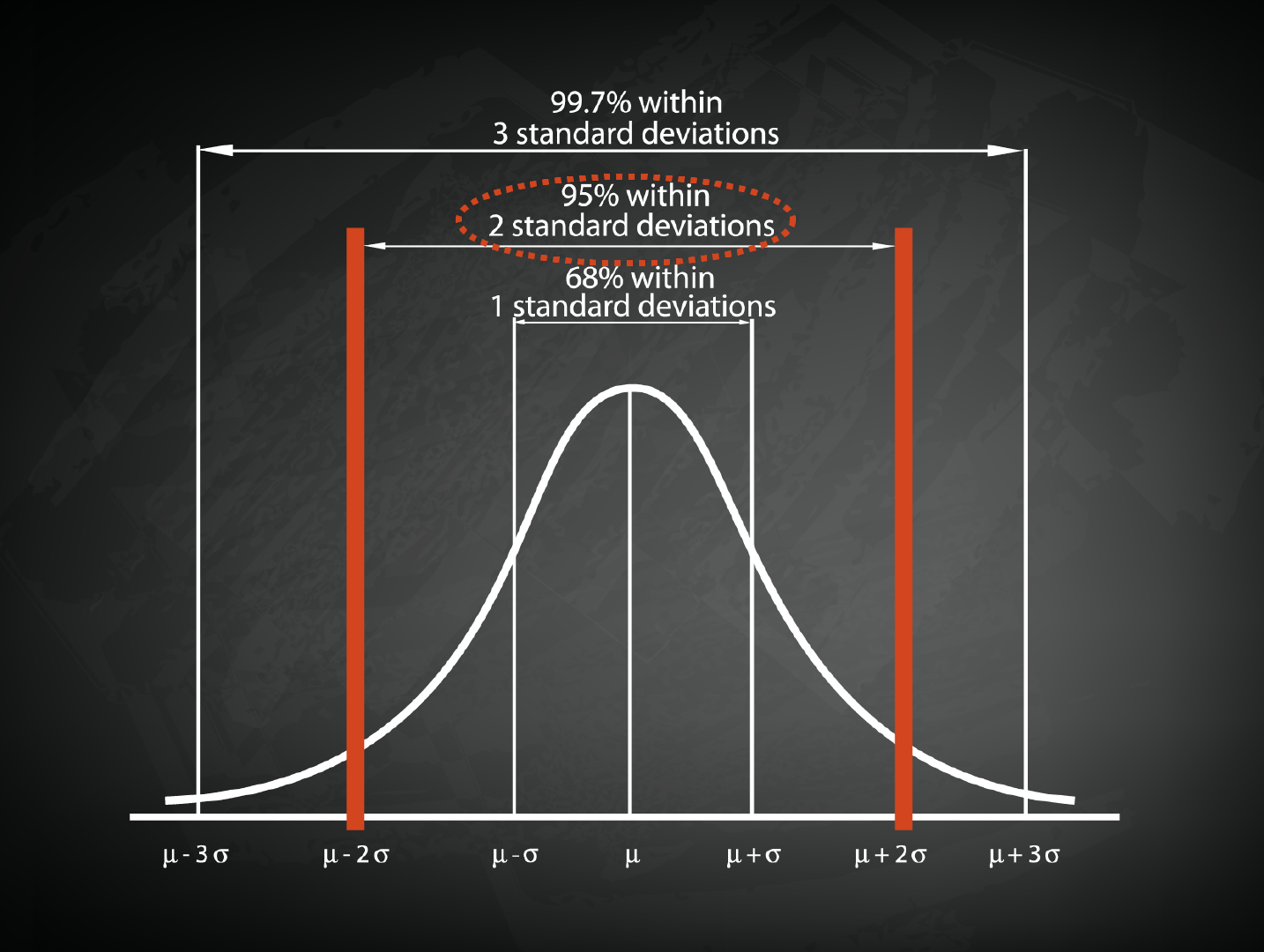 Like all 116 trade scenarios in my three-year Alpha Signal back test, for instance…
Approximately 95% of the events occur within two standard deviations from the average of ALL the events in the set.
That means just 5% happen beyond two standard deviations from the average…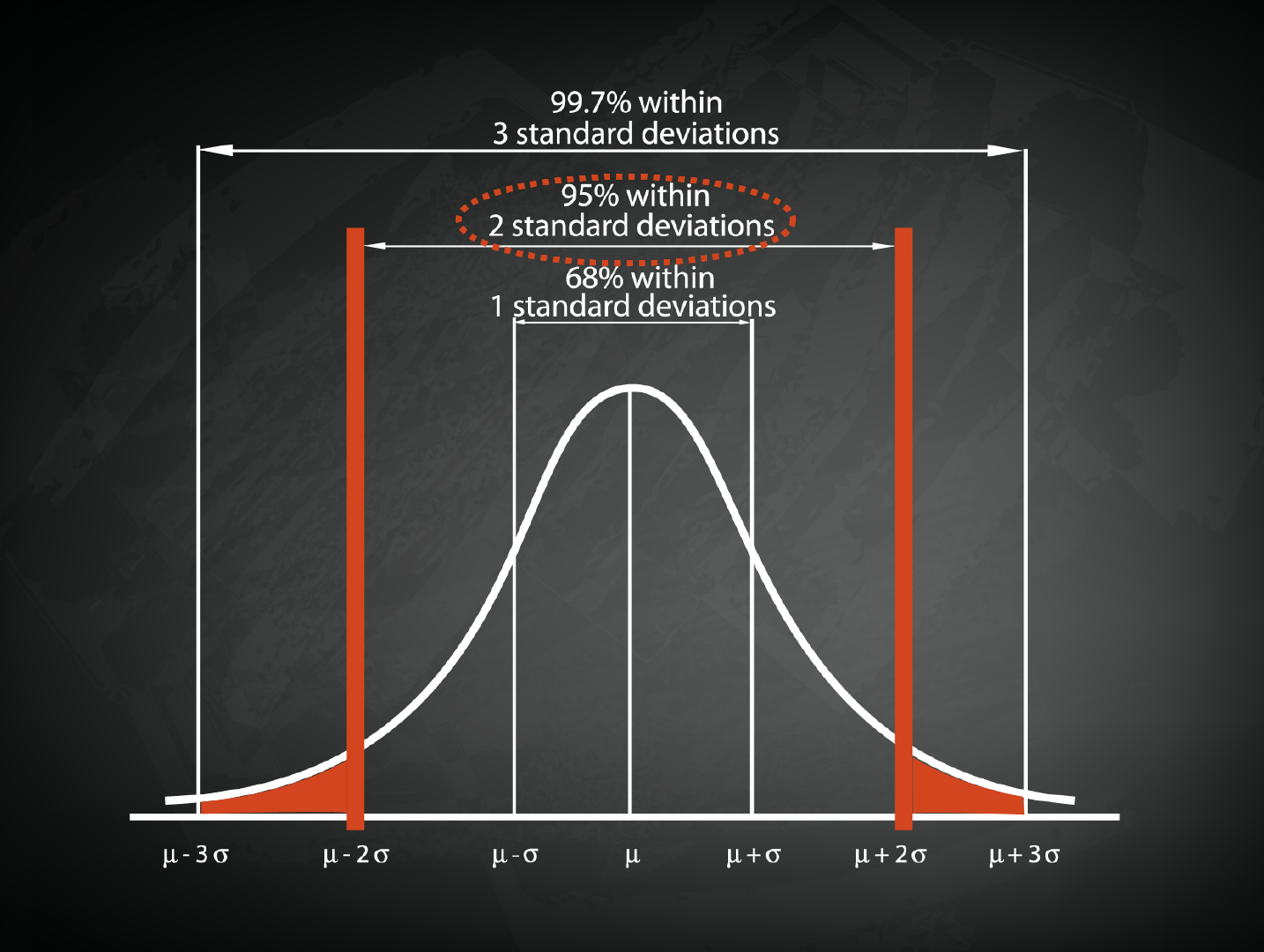 In other words, they're rare events — less than 1 in 20 odds, in fact.
Now, don't worry if you're a little hazy on what "standard deviations" are…
You don't need to know the math behind them to understand how my system works.
All you really need to know is this…
Standard deviations reveal the
Alpha Signals — and the trades on them that could
as much as double your money in a week
Now, let me show you exactly how all this works — as much as I can, anyway.
We'll start with this basic chart, right here…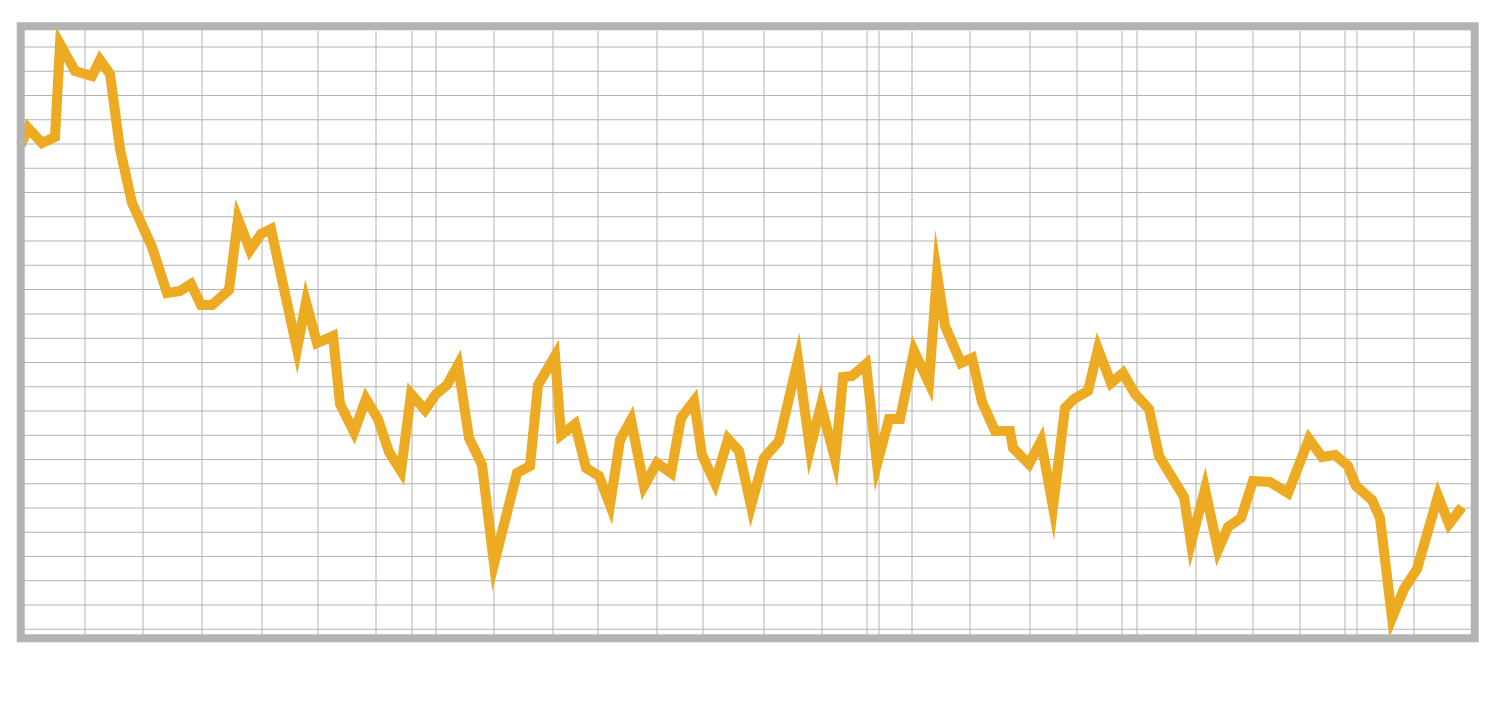 It shows six months of price action for one security within that specific pool I mentioned earlier (and that I'll reveal shortly — hang on).
Now, if you're a typical "investor" type…
You see a long-term flat to down trend with a lot of volatility, right?
But if you're a trader at heart — like me…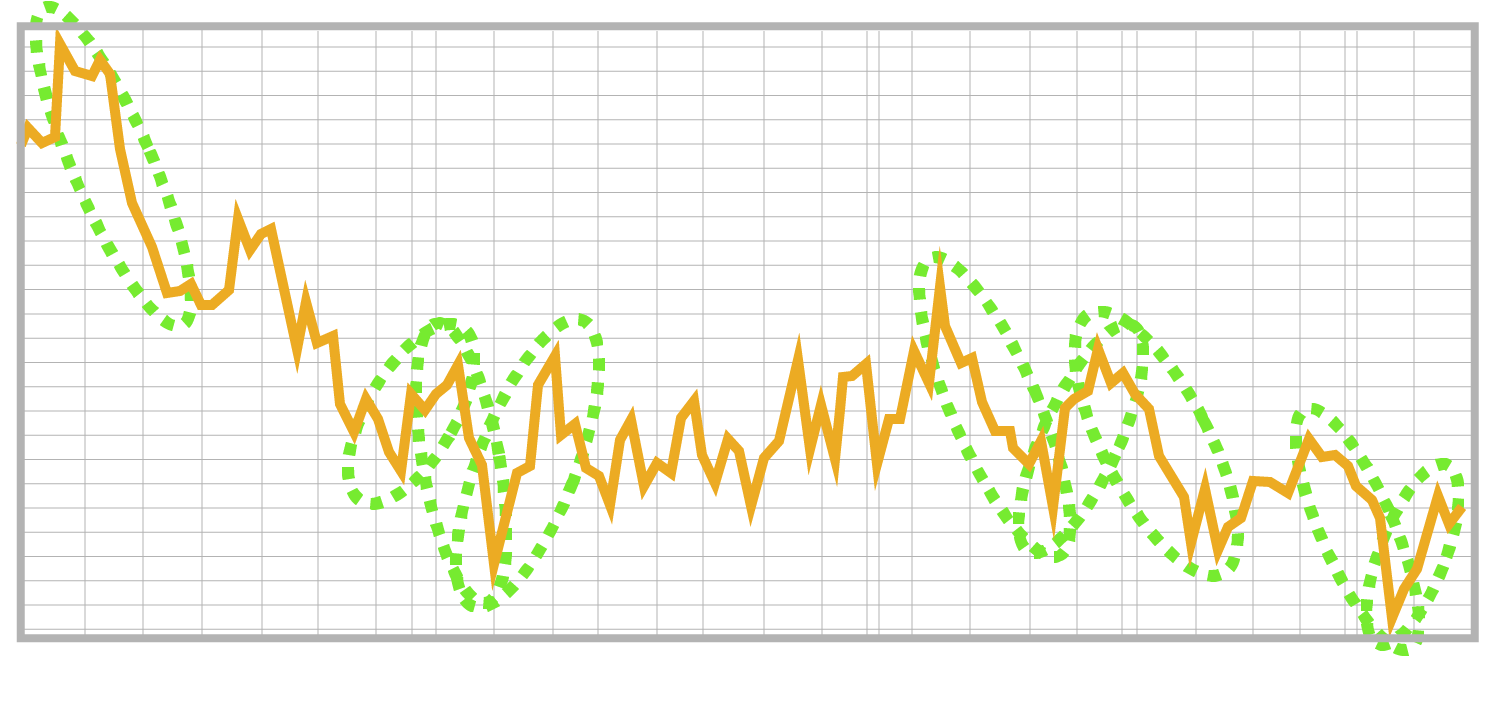 You see several short-term price moves that could be traded in both directions…
To potentially score big, fast wins in a few days to a couple weeks at most.
The problem is all the "shark's teeth" in here…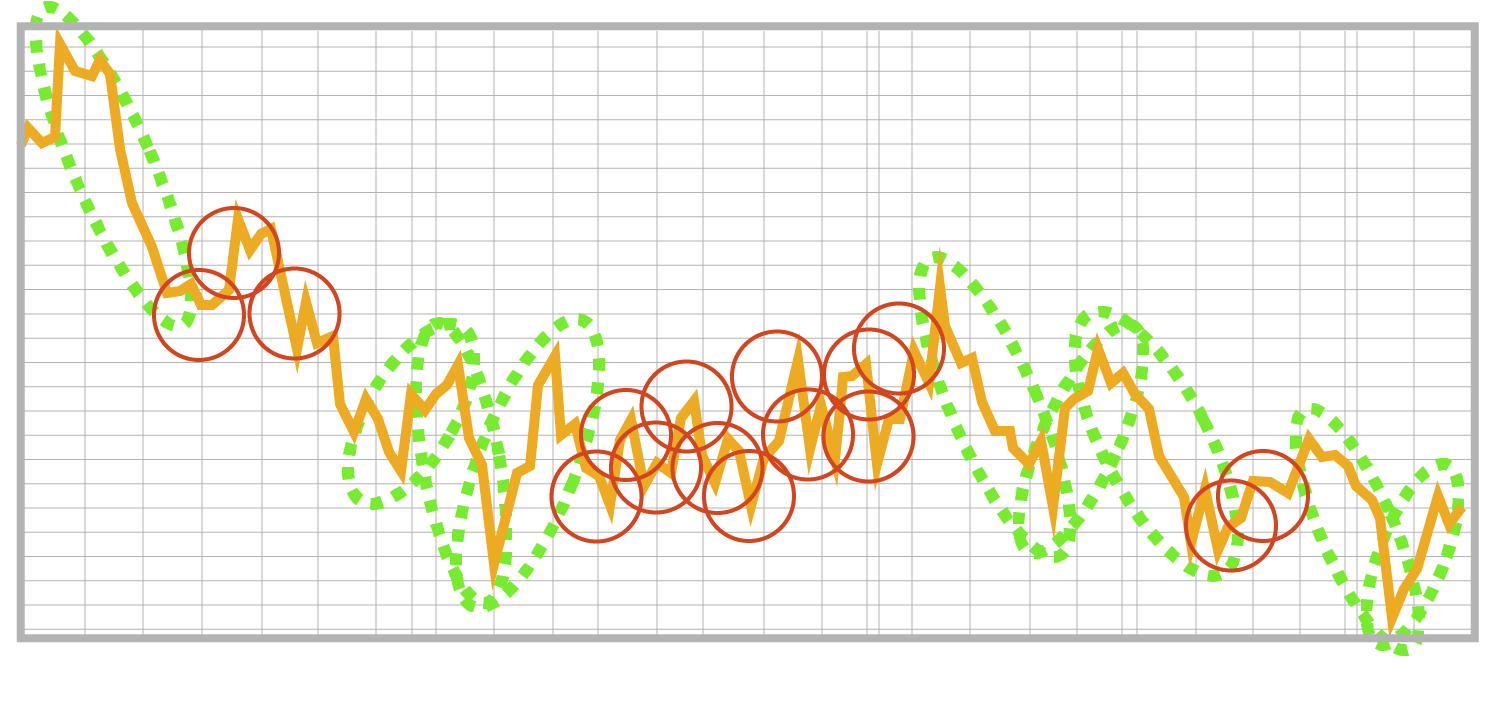 That's what I call sudden, unpredictable reversals in price action that can crop up in no time flat — to bite you right in the assets.
So the million-dollar question here is obvious…
How can you tell the meaningful price moves
that could score you big, fast doubles and triples…
From the "shark's teeth" that could kill you quick?
Historically, you can't.
But now, with the power of my new statistically driven Alpha System doing the heavy lifting…
You CAN, if all my testing so far is any indication.
For proof, let's look at what this groundbreaking new system of mine "sees" in that scary-looking chart I just showed you.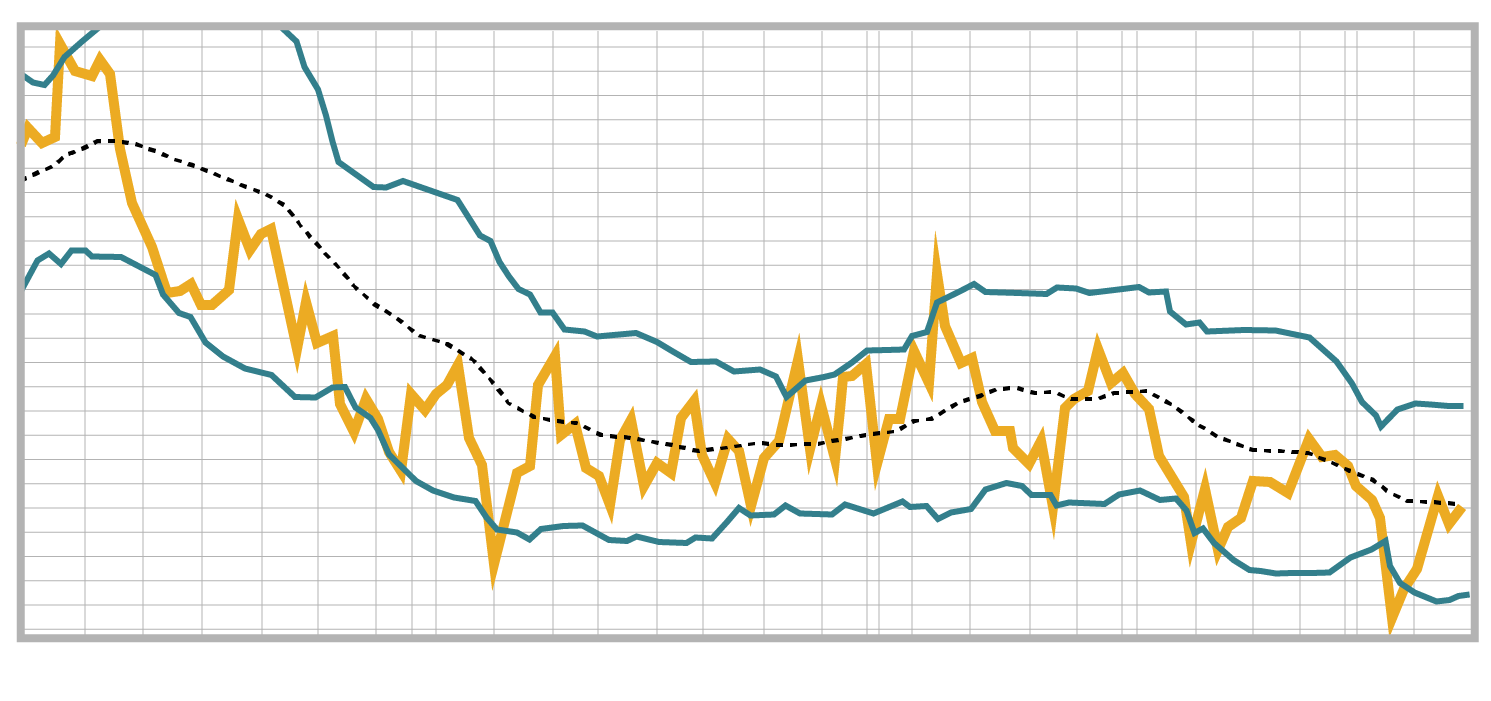 The first step in my system is to add two crucial statistical "overlays" onto this chart:
A rolling average price line
(the dotted one through the middle) and…
A pair of lines marking two standard deviations away from that rolling average (the solid blue ones)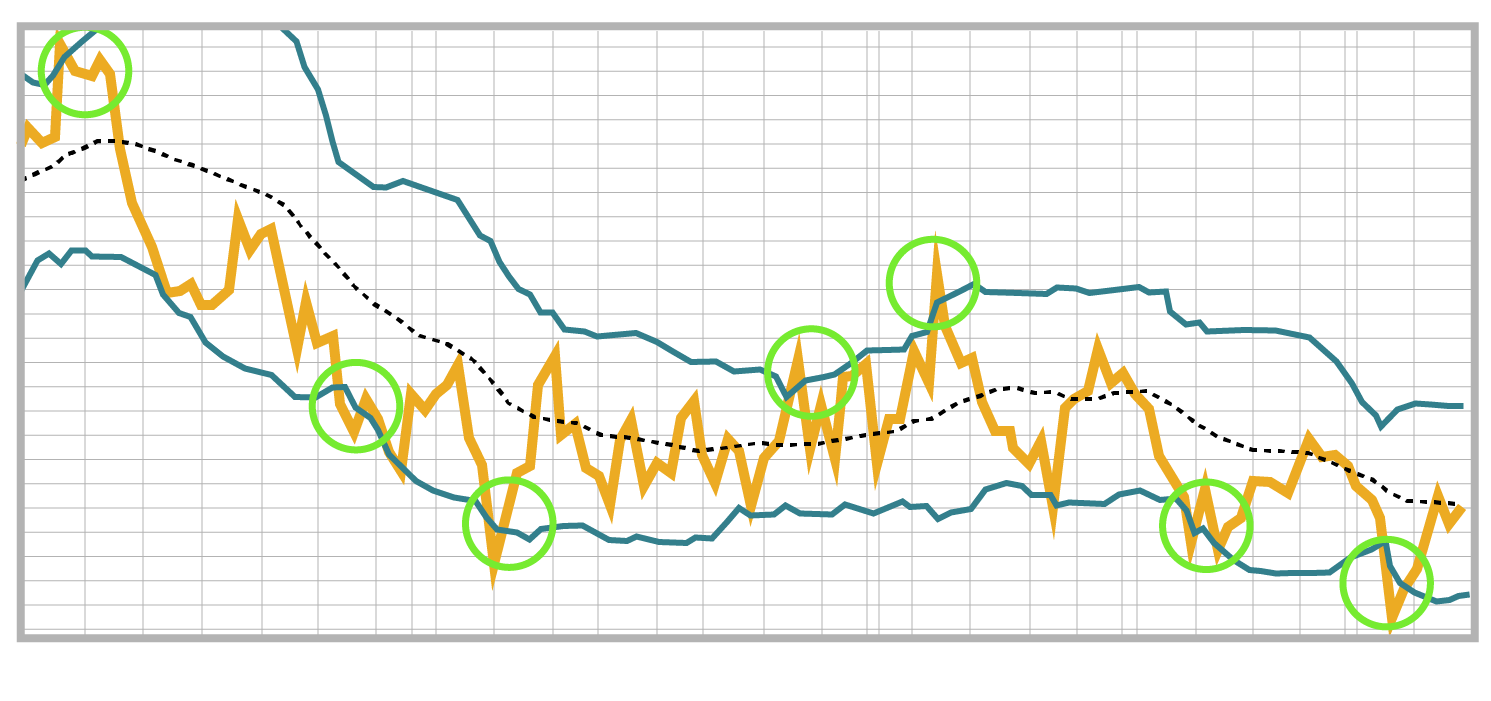 Once we do this, you can plainly see that in this six-month period…
The price line decisively broke through these deviation lines seven times — each one forming a clear, A-shaped "Alpha Signal."
Now, don't forget that under my system, these signals are the "buy" triggers…
And again, the statistical chance of them happening is less than 5% per event.
So how can these rare occurrences help make you richer than rich, faster than fast?
This is the part that's going to blow your hat off…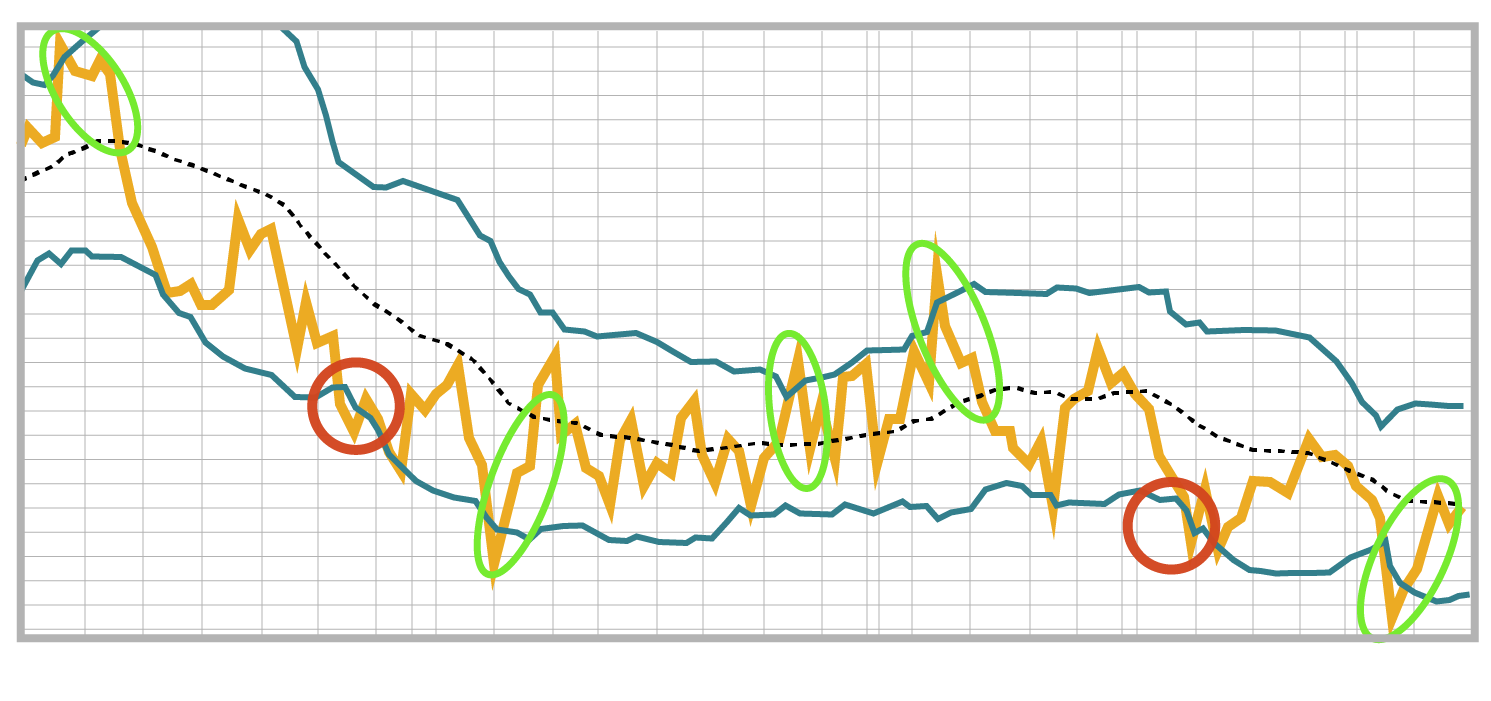 After these rare Alpha Signals appear…
Look how often the price quickly reverts back to the rolling average line.
Remember — this is the "sell" trigger under my system.
Green shows the ones that quickly "snap back" to the average, the red ones don't.
Five out of seven. Not bad, huh? But hold the phone a minute…
My Alpha System is much more than a statistical overlay revealing price anomalies that precede swift corrections you could trade for big gains.
It also contains several other built-in mathematical and analytical safety measures that can help keep you from trading "false" Alpha Signals…
Meaning those that are unlikely to snap back to their average quickly.
These don't occur super-frequently, but they can leave you "shark bit" all the same.
And in this six-month stretch, these complex safety measures — shown here as a pale orange stripe…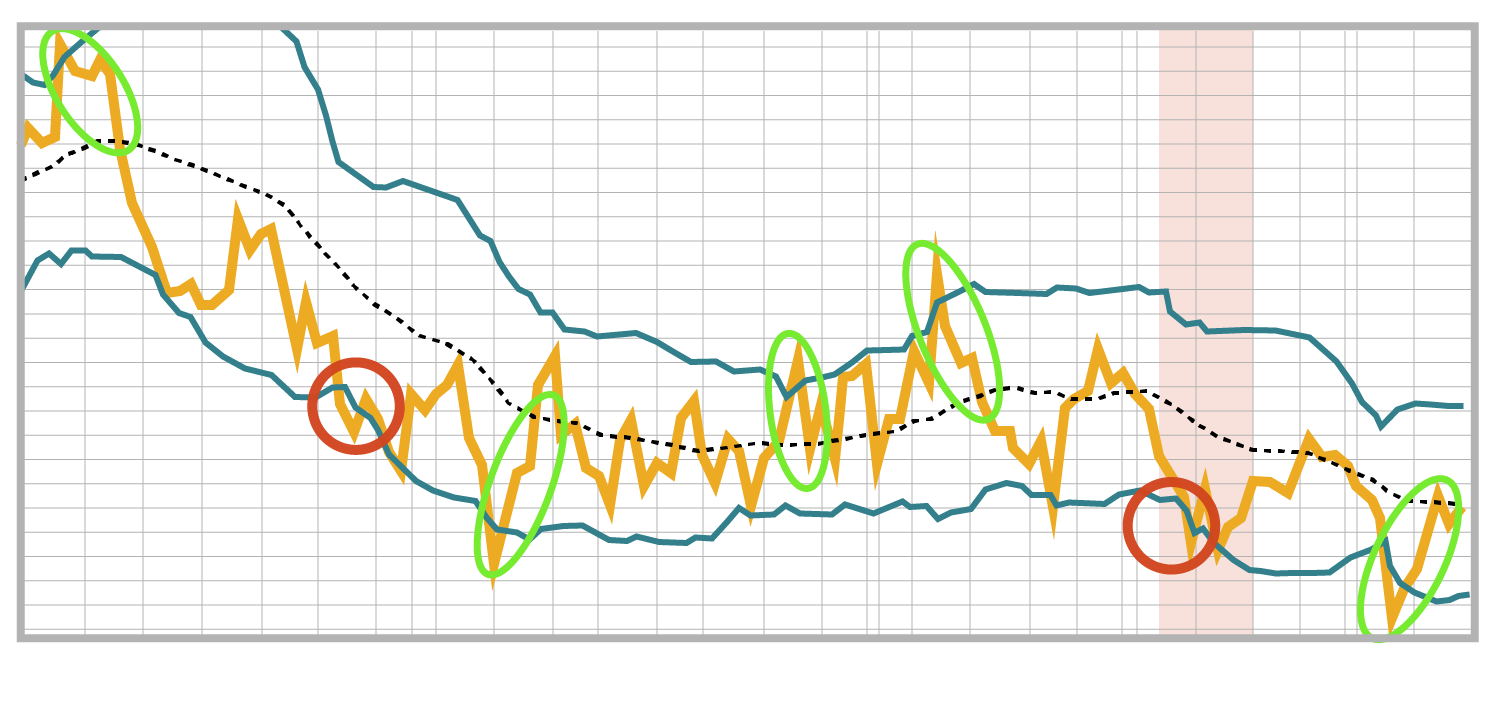 Could indeed have saved you from trading one of these "false" Alpha Signals.
That makes the potential win ratio for this example five out of six — or over 83%.
And if the average returns of the historical test trades I showed you earlier would've proved profitable in these instances as well…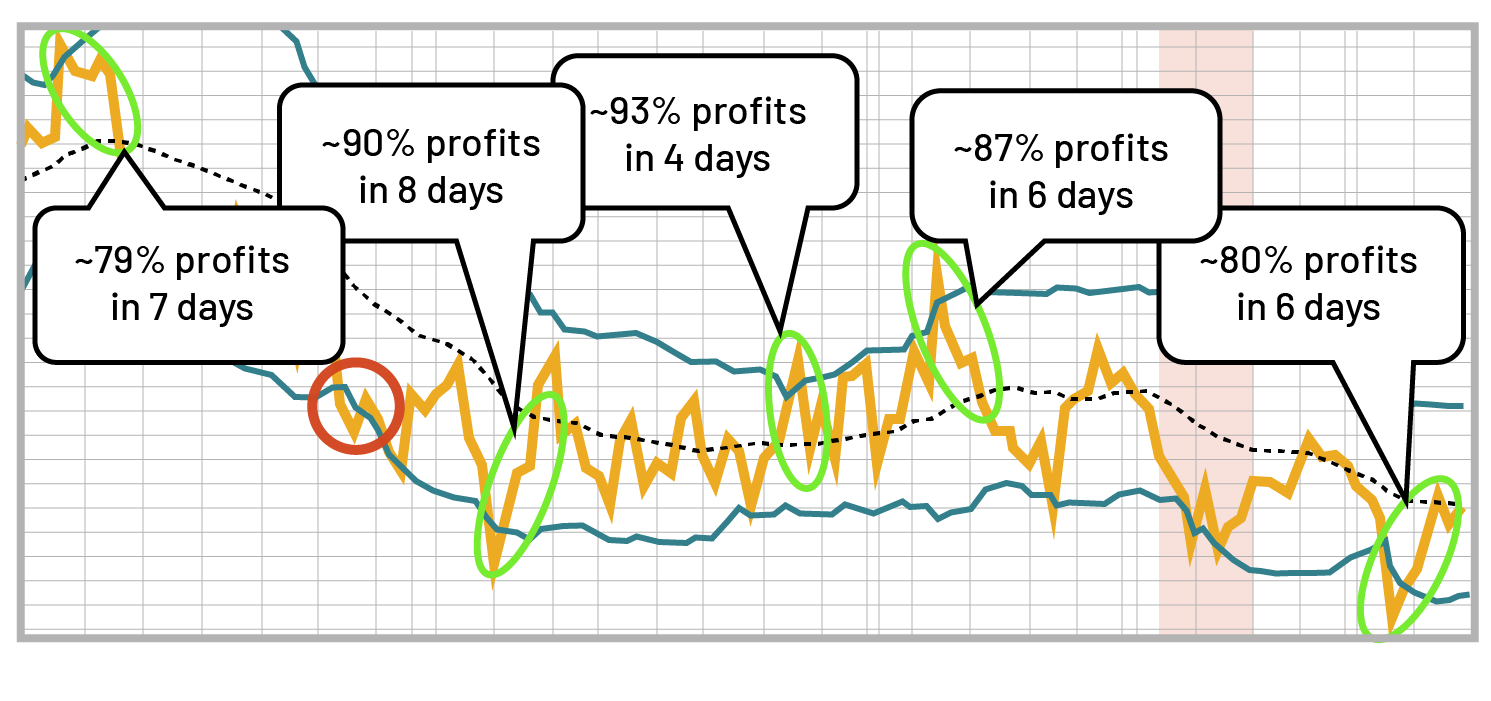 Over this six-month period, you could've scored FIVE big double-digit wins up to 93% in just four days!
And that's just in ONE of the securities in my Alpha System "target pool," which we'll cover in just another minute (it's not what you think)…
Imagine how fast you could get enormously rich playing four or five more like this one over the same six-month span of time!
Think that's a stretch?
You won't after I run you through these next two examples…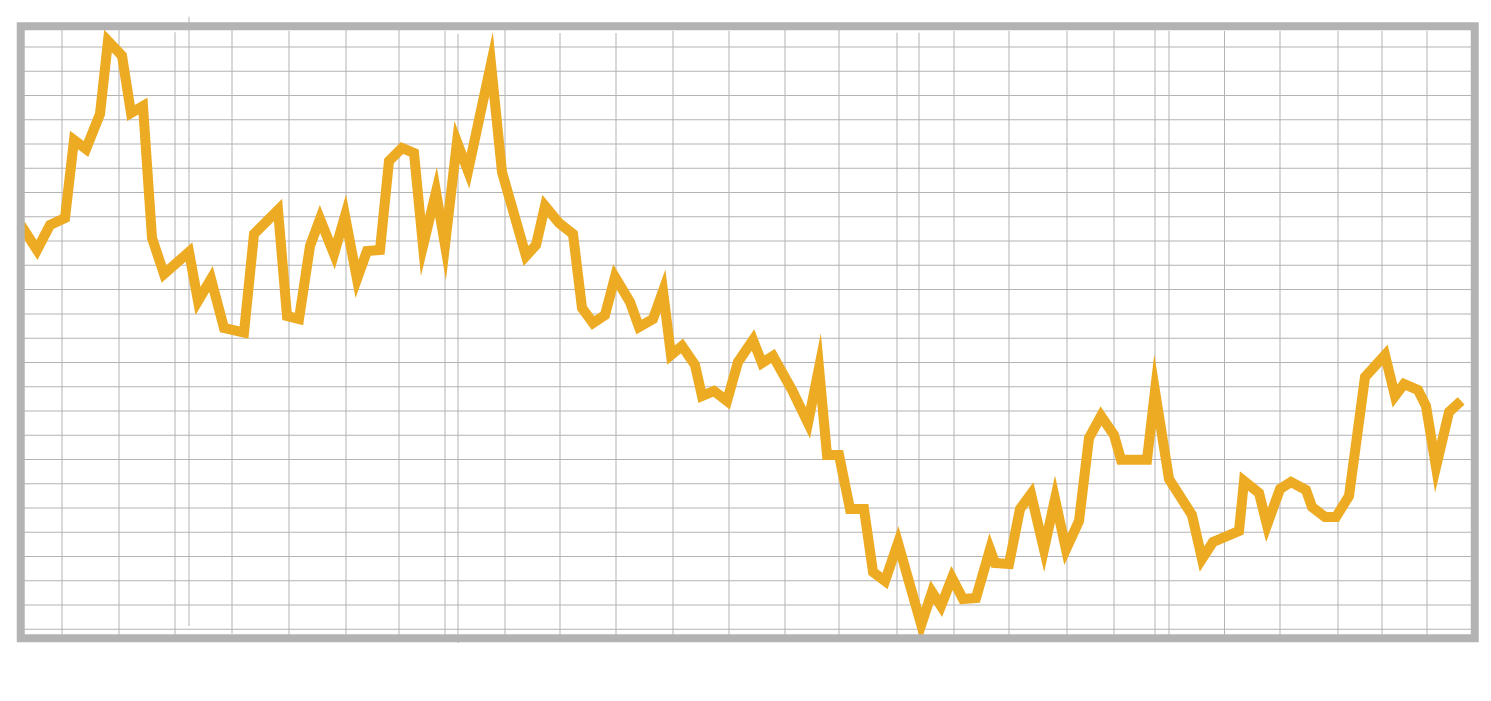 Again, here's what YOU see when you look at this six-month chart.
A bewildering mess of shark's teeth…
And maybe a few sustained moves you could've traded up or down — if you could've somehow timed them right.
Now here's what my Alpha System "sees" in this same chart: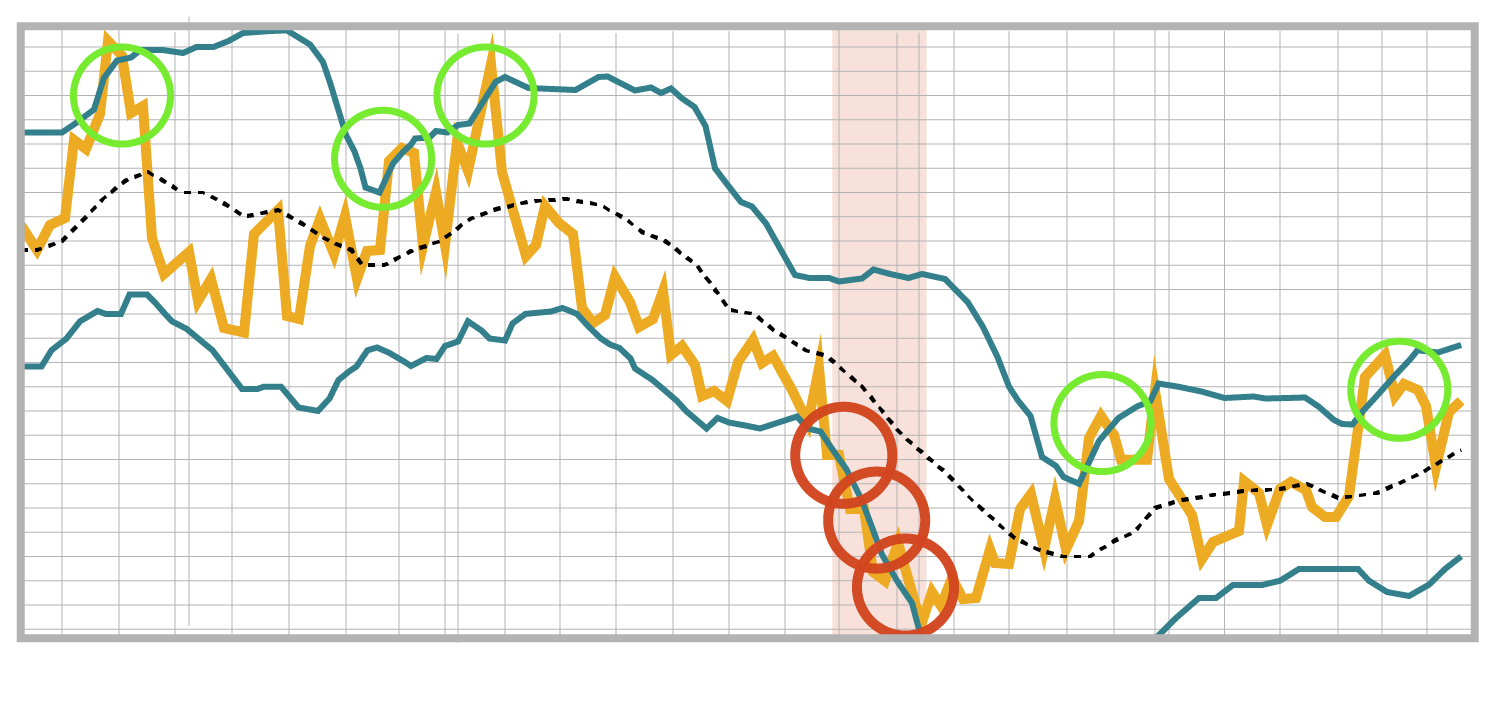 We've got a total of eight distinct Alpha Signals, but look closer here…
Three of them were false signals — and my system could've "blocked" you from trading all three of them!
That leaves five true signals that could've led you to big gains in very short order…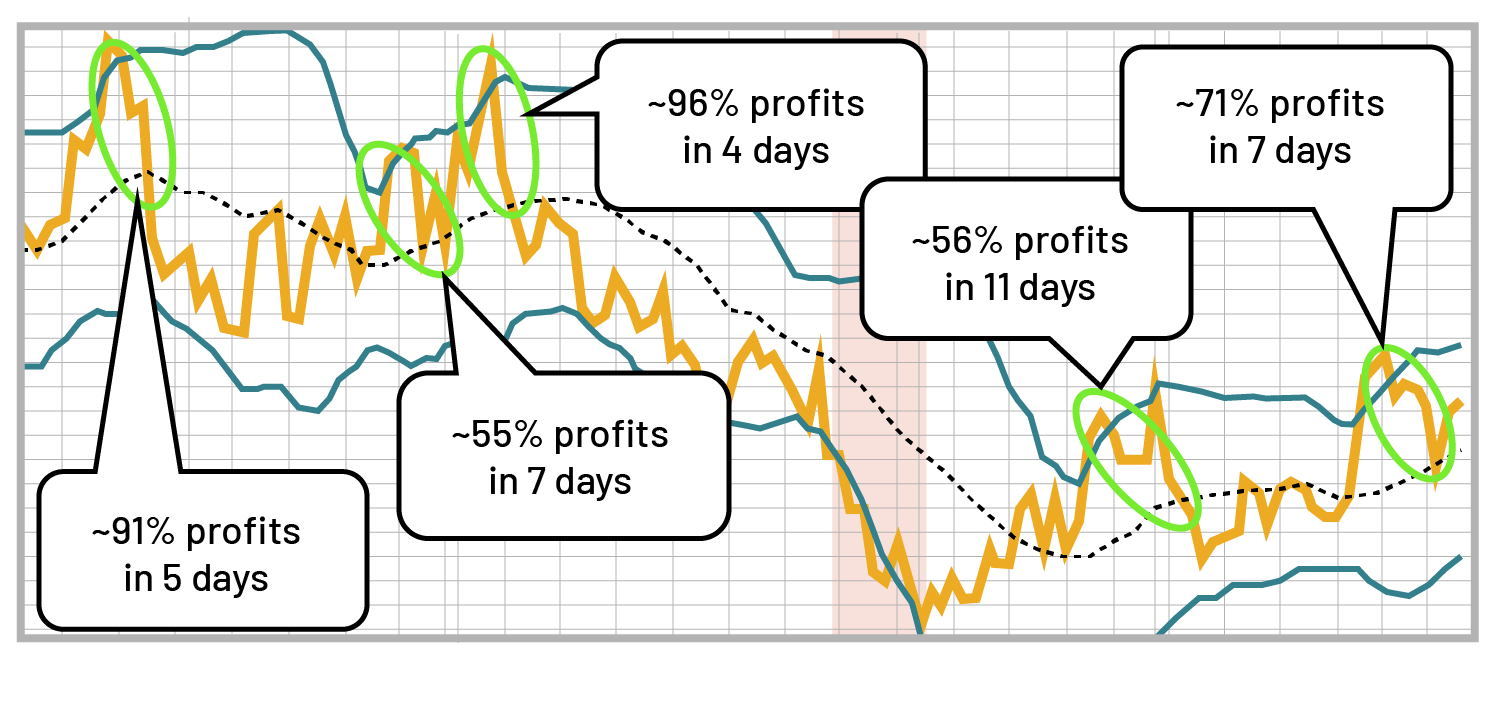 Again, if the potential profits from my "paper trading" and other testing holds true.
One quick final example, just to hammer the point home…
Tell me what YOU see in this six-month chart: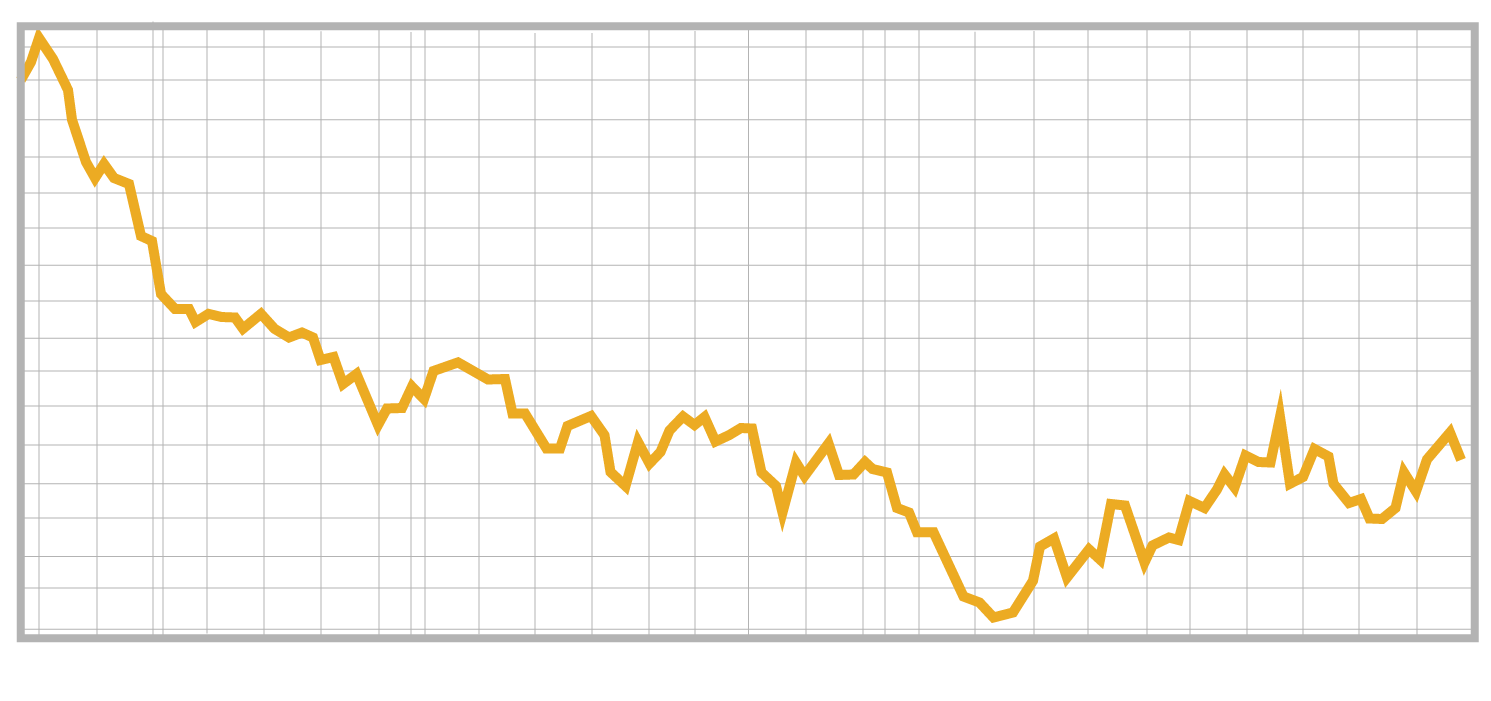 Kind of "blah" looking, right?
Especially compared to the others I just showed you.
Mostly flat, without a lot of scary volatility…
But there also doesn't appear to be a whole lot of trending price action to trade either, right?
That's exactly why I picked this example, because check this out…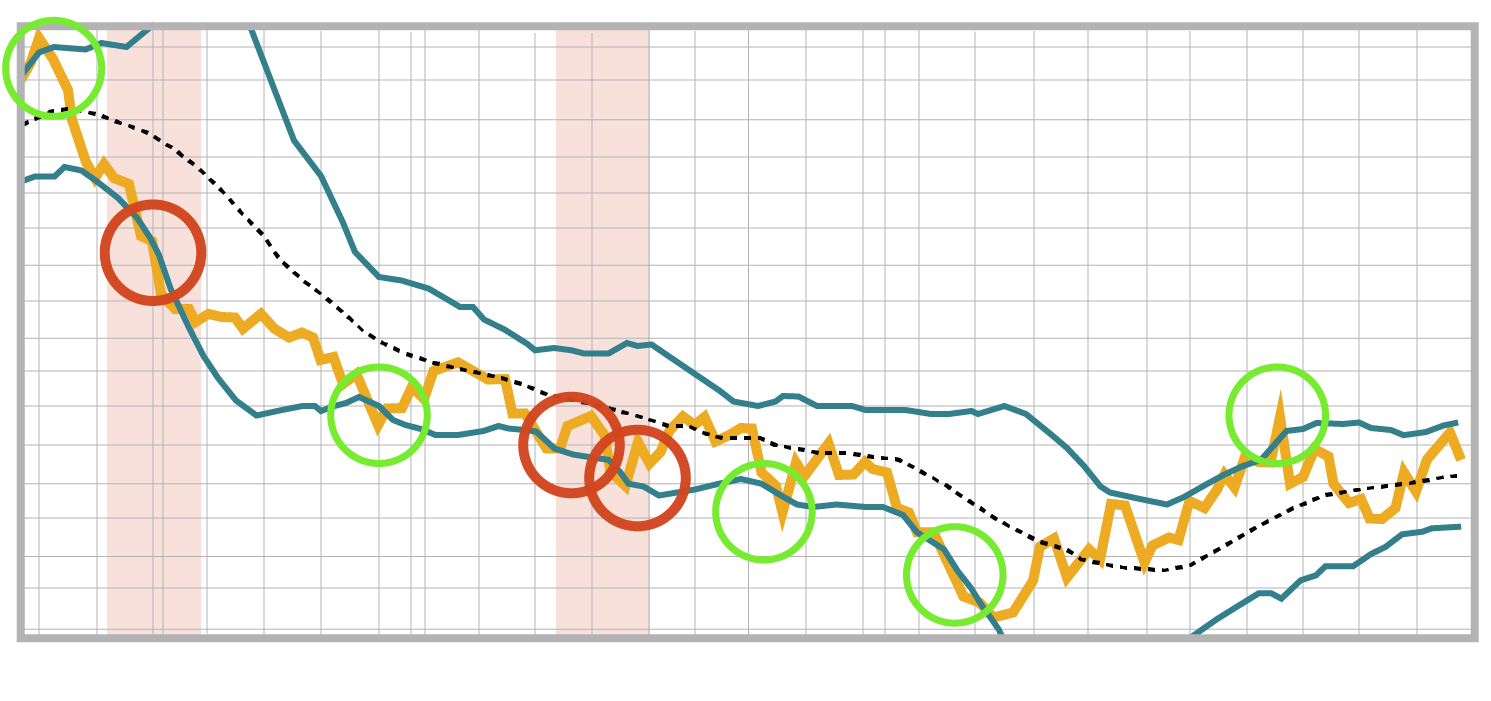 As you can see, my system could've not only found five valid Alpha Signal "buy" triggers that quickly snapped back to the average…
But once again, it could've kept you OUT of trouble on the three "false" signals.
The next result: Five more sizeable wins for the "make you rich, fast" pot…
Including TWO big triple-digit scores!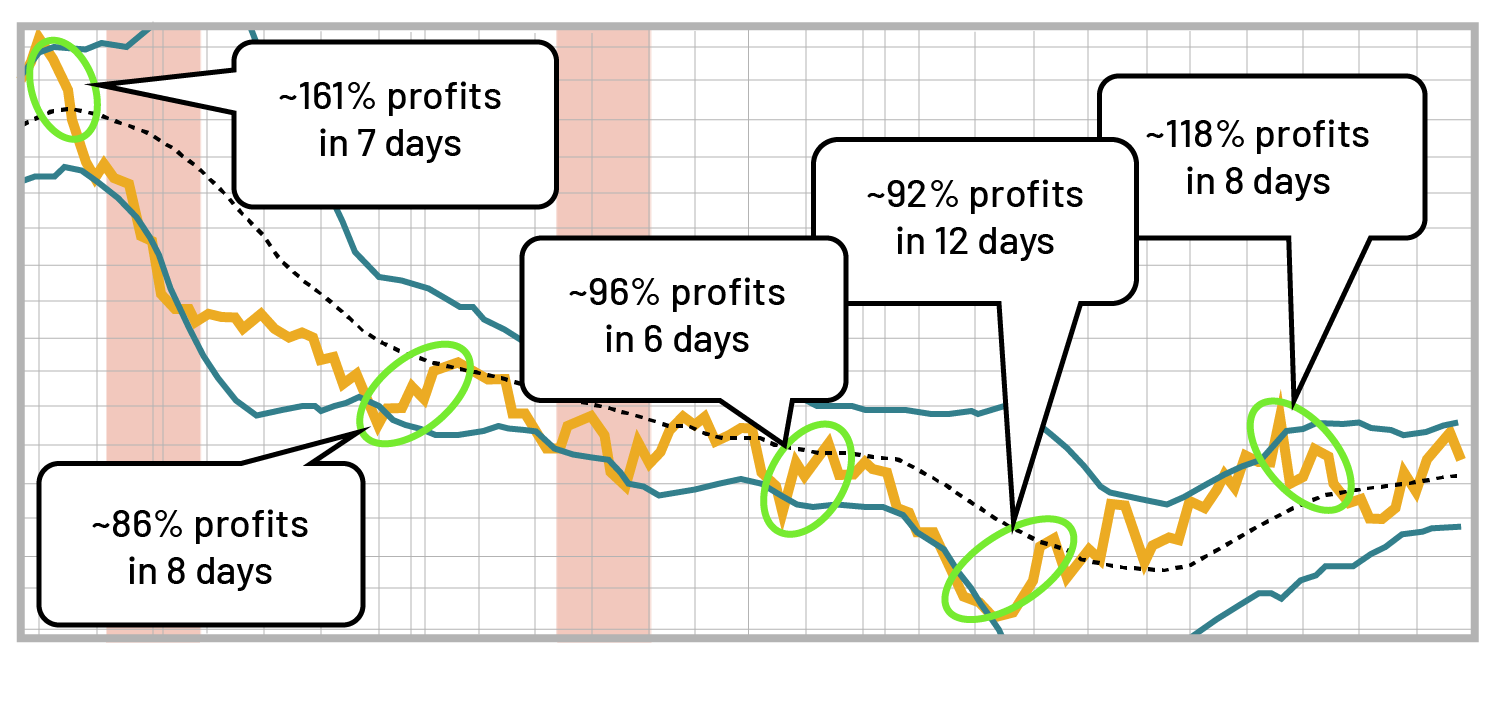 In fact, if you do the math…
You'll find that the average win in this "boring" chart was over 110% profit in a little over eight days per trade!
Imagine scoring the equivalent of five double-your-money wins in six months…
On a single security!
You ever done THAT before?
Again, keep in mind that I had the benefit of hindsight — that's what "back test" means — to discover how profitable these Alpha Signals could've been for you.
Can I guarantee that you'll do this in real time with my system, from now on?
Of course not.
When it comes to trading, past performance is NEVER an indicator of future results.
But I am confident in my system's potential, based on the awesome real-time "paper trade" finds I showed you earlier — of up to 171% in just five days!
OK, so just to recap…
What I've just shown you is three six-month charts — each for a different security within a "target pool" I'm going to reveal to you in 30 more seconds.
These charts show that you could've had the shot at 15 double- and triple-digit wins, and only hit one bona-fide loss on a subtle "false" signal…
For an overall win ratio of 93.75%.
As you'll recall, that's right in line with my system's long-term back test across this entire pool of securities…
Which posted an accuracy rate of just over 92% in a three-year period.
Point is, once again — I'm not cherry-picking anything here.
What you've seen are actual results from my three exhaustive phases of testing…
Chosen for their faithful representation of my Alpha System's potential to help you get richer than you ever imagined, faster than you ever thought possible.
And they plainly prove to me that this new system is the biggest trading profits breakthrough I've ever made, or ever will…
But get ready — because there's a big twist to this whole thing.
And as you're about to see…
It's the SECRET to my Alpha System's incredible data-proven accuracy and downright shocking profit potential.
Are you ready?
Good. Because here's the twist…
I'm NOT talking about stocks here — or bonds or gold
or commodities or anything else you're used to investing in…
I'm talking about something HUGE that's effectively been
"off limits" to you until right now!
There's a major global asset class I'm betting you've never made a penny from…
And you're not alone.
The vast majority of individual investors never even try to trade this class of assets.
That's because until now, it could be difficult, risky, volatile, expensive and confusing.
But there's a way to play my Alpha Signal discovery that changes all that.
As I've shown you, the system I've built around this breakthrough indicator could help lead you to enormous sums of money…
Quickly, easily, reliably — and with unprecedented 92% data-tested win rate…
But if that happens, it won't be in stocks or bonds.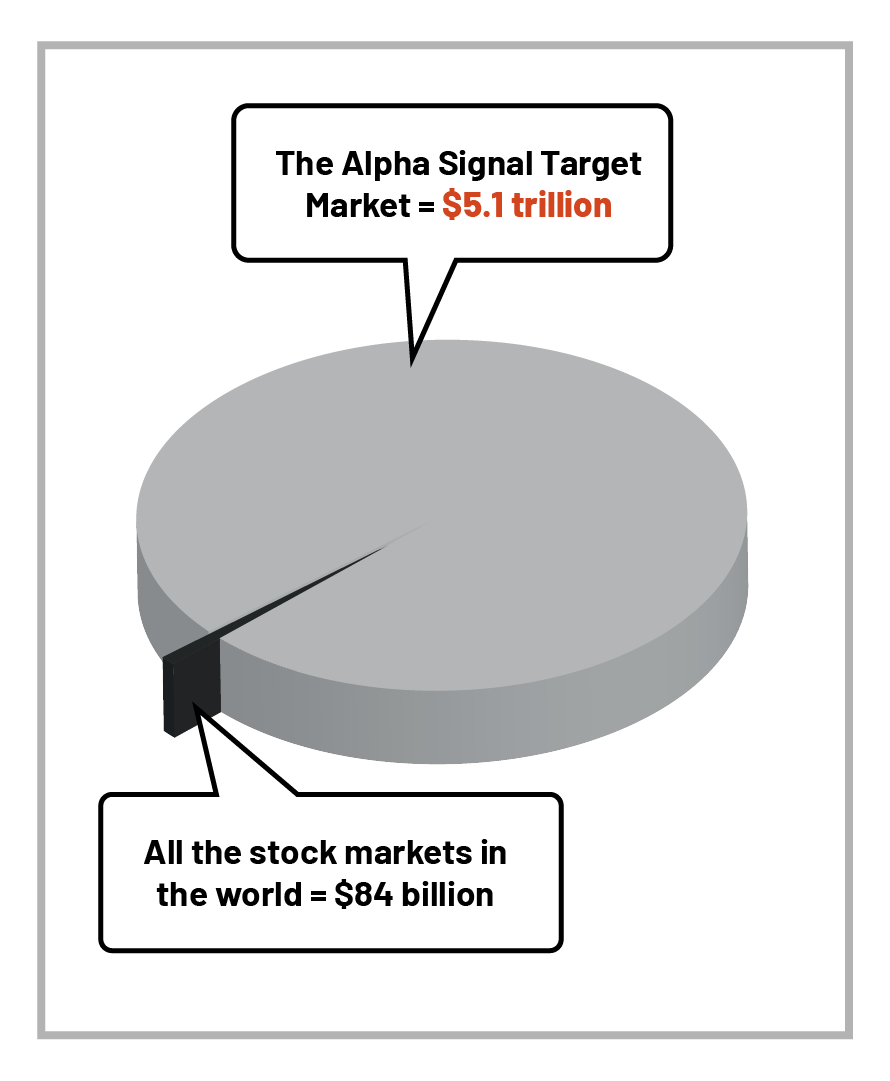 It'll happen in the huge, yet obscure and poorly understood global market I'm telling you about.
This market sees over $5 trillion a day in trading…
Or over 60 times the volume of all the world's stock markets put together!
What's even better is that trading my Alpha System with an easy-to-execute play on this giant "off limits" market could not only make you very rich, very fast (you just saw the proof)…
It could also help protect you — and keep you making big, fast money during pretty much everything investors fear.
Stock market crashes, economic collapses, trade wars, shooting wars, you name it…
And the cherry-on-top is this:
My new Alpha System lets you exploit this
mega-market in a way no one else can…
Not even Wall Street's biggest
and best trading houses!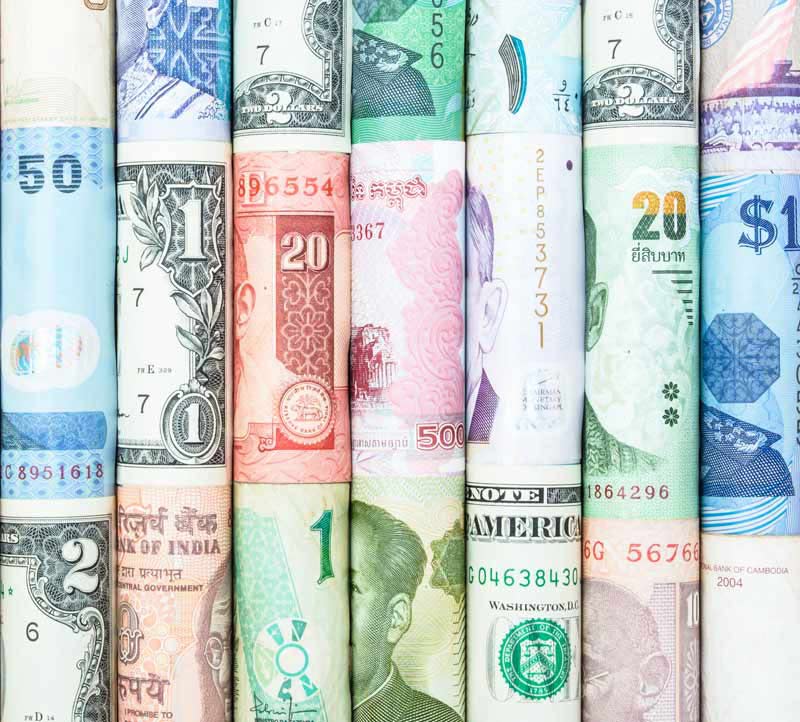 So let me just end the suspense for you…
The "mega-market" I'm talking about is currencies.
Not Bitcoin or other "cryptos" — I mean the actual, official money of nations.
By volume, conventional currencies are the biggest tradable market in the world…
But I want to make one thing clear right up front:
I'm NOT talking about forex trading here!
In case you don't know, "forex" stands for Foreign Exchange Market.
Forex is where global currencies get traded in large quantities by Wall Street, hedge funds, big financial institutions…
And most importantly for our purposes: central banks (you'll see why in a moment).
For individual traders, forex can be a volatile, treacherous and confusing market that's very likely to lose you your shirt.
Within the last several years, however…
Another, simpler way to play global currency trends has emerged.
Not only is it safer and easier than trading the Forex — but it can actually give you a major advantage over Wall Street and the big hedge funds.
And yes, in just a moment, I'm about to show you:
WHAT this way to play global currency moves is
HOW it can give ordinary traders an edge over the Big Boys
WHY it's the perfect vehicle for raking in HUGE
Alpha System profits
First, though, I have to show you why — believe it or not…
"Boring" central bank actions are what
enables my Alpha System to give you the chance to
get richer than rich…
Faster than you ever thought possible (yes, I'm serious)
When I say "central banks" here…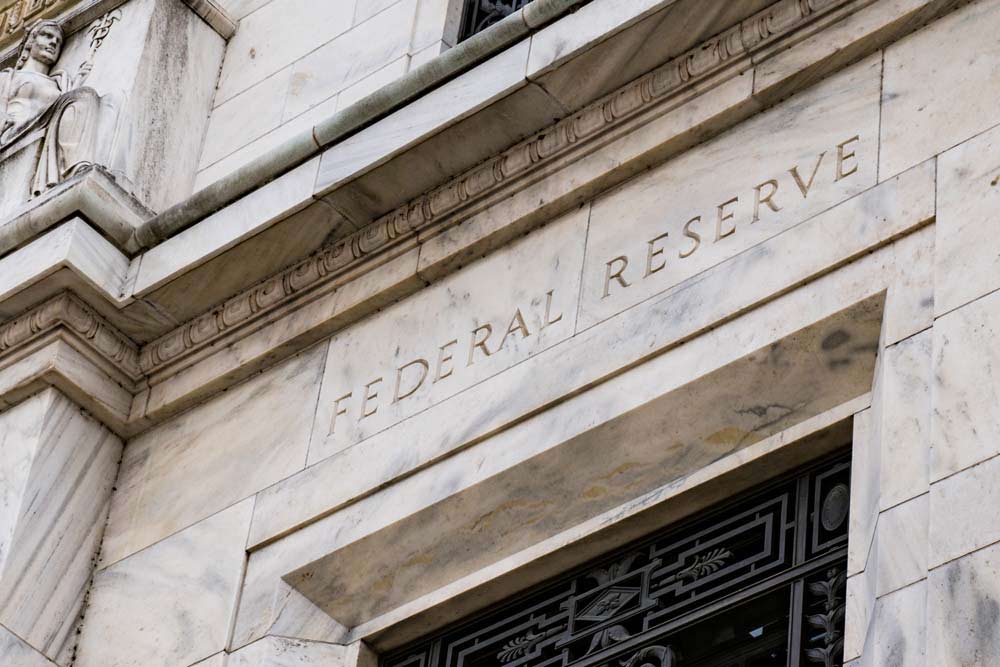 I mean the official authorities that control the day-to-day monetary policy of nations.
Institutions like America's Federal Reserve, the European Central Bank, the People's Bank of China, the Bank of Japan, etc.…
And yeah, central banks and their actions are boring. I get that.
So we're not going to talk about them at all — except to make this one crucial point…
A central bank's biggest day-to-day job is to manipulate its nation's currency.
That's because a stable, solid currency is the heart of a strong economy.
And in a world with as many constantly fluctuating variables as ours…
Wars, trade wars, economic collapses, resource shortages and gluts, elections and political upheavals, disasters, terrorism, and about a million other things…
It takes frequent manipulation to keep just about ANY currency stable and solid.
Central banks do this directly or indirectly through a variety of measures…
Interest rate tweaks, quantitative easing, money printing, bond selling and buying…
Even large-scale direct currency exchange transactions on the forex, and more.
Again, I don't want to get too deep in the weeds on this point — the crux of it is…
Stocks, bonds, gold and just about everything else trades at the mercy of the free market — currencies don't…
That's WHY my Alpha System can predict winning trades in them with over 92% tested accuracy
Some nations are more secretive about their currency jiggering than others…
But they all do it.
They have to do it or their trade deals, import/export balance, institutional lending…
And a whole bunch of other really important economic stuff goes all out of whack.
Point is, we KNOW corrective actions are going to happen in currencies — it's just a question of developing a way to figure out when…
So you can have a chance to trade them for big, fast double- and triple-digit wins.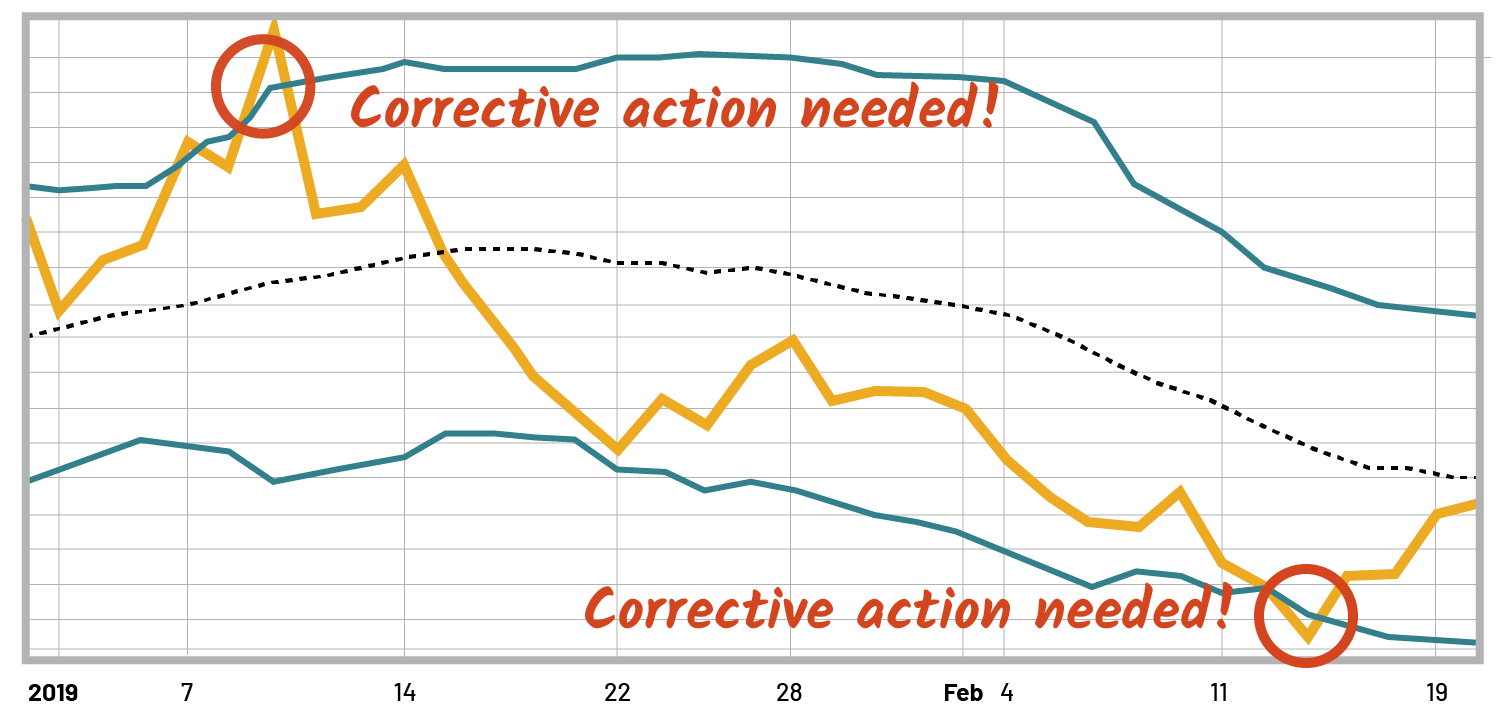 That's where my new Alpha System comes in, as you've already seen.
Starting with a two standard deviation statistical threshold of "5% rare" events…
And adding several modifications to help hedge its accuracy and win ratio…
I built the Alpha System from the ground up for one thing…
To pinpoint specific opportunities for big, fast profits
from central bank currency actions
And again, from all my testing this spring…
In both years' worth of past data AND in real-time "paper trading" results…
I can confidently say that this system has shown the power to predict when certain currencies are going to move sharply up or down with greater than 92% accuracy.
Again, past performance isn't indicative of future results…
But the testing results are undeniably shocking to anyone who likes money.
And it's an incredibly simple system to use, too.
In fact, it would take you only a few minutes a week to put yourself in position for a winning trade of up to 171% every 9½ days…
Plus up to an average 1,756% annualized portfolio returns, theoretically.
But enough gilding the lily here.
By now, you should be MORE than convinced that this Alpha Signal I've discovered…
And the new, data-tested Alpha System I've built around it…
Are quantum-leap profit breakthroughs that could help you score bigger, faster trading returns with lower risk than anything else you've ever tried.
If you're not, you obviously can't BE convinced.
Because the math works on this thing — and the theory makes perfect sense, too.
So if that doesn't have you itching to find out how to get access to my Alpha System for your own wealthy future…
Nothing will. If you're still reading this, however…
There's something I want to share with you right now.
Introducing Alpha Currency Profits — a revolutionary new trading research service no one but me could've created
To even conceive of the Alpha Signal's existence, much less go looking for it…
It takes an exceptional knowledge and passion for financial theory, monetary policy, and global macroeconomics.
For 99.9% of analysts, that can be boring, hard-to-understand stuff.
Then there's me. Once again, I'm Graham Summers, MBA.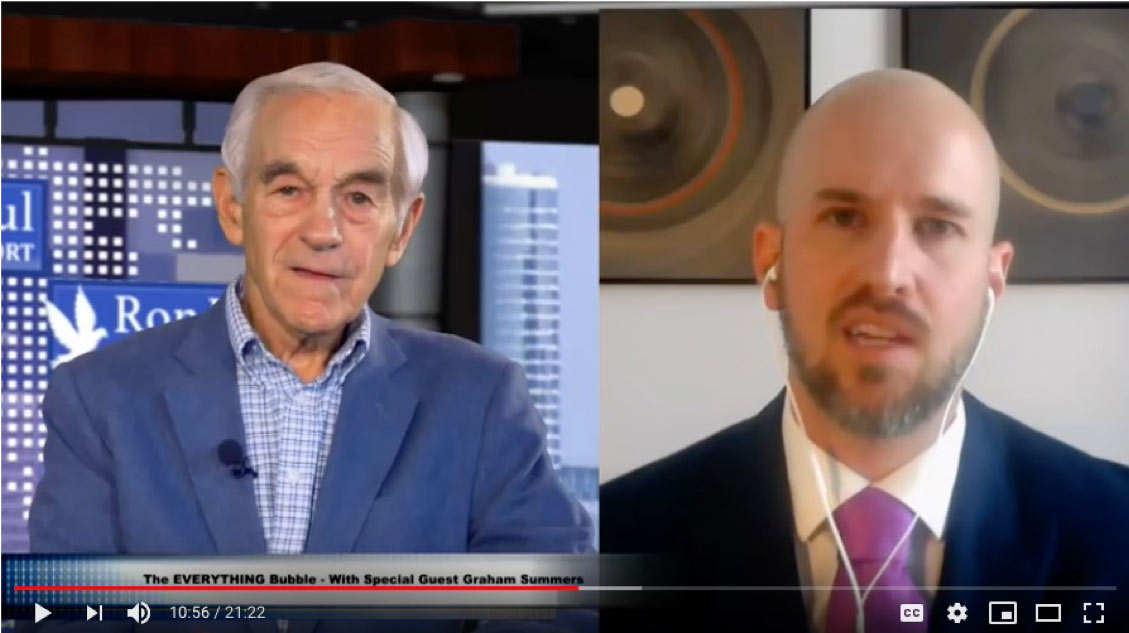 And in case you haven't heard of me yet, you will soon…
Because I'm the author of the recent Amazon bestselling financial book The Everything Bubble…
I'm also the analyst Ron Paul calls, "one of the few with a truly expert understanding of our financial system."
And I may be the only investment strategist on Earth who's on record correctly predicting all three of these world-changing financial events:
The 2007 subprime mortgage meltdown
The 2008 Great Recession and market crash
The December 2018 stock market correction
I also called gold's bull run of the mid-2000s, the Greek debt crisis, Brexit, the Trump-era stock market highs and tons more.
So yeah, I don't think I'm off base to say I'm a finance, economics and "macro" nut with an extremely rare talent for being right…
Because my track record shows all that, plain as day.
If it didn't, they wouldn't ask me to be on CNN Money, MarketWatch and others…
And they wouldn't run my views and comments in the New York Post, Huffington Post, Reuters — even in Rolling Stone!
The last thing you need to know about me is that for over 15 years now…
I've been providing "global macro" financial research, analysis and profit strategies for over 23,000 retail and institutional subscribers in 60 countries.
That means I've pretty much seen it all, in terms of ways to make money.
Add all this up and you can see why I say I'm the only analyst who could've created Alpha Currency Profits.
But be sure to add THIS into the equation, too…
My goal with Alpha Currency Profits isn't just to help you find trades that could make you rich, fast…
It's also to make your financial life "everything proof"
(and I want to give you a FREE tool that can help)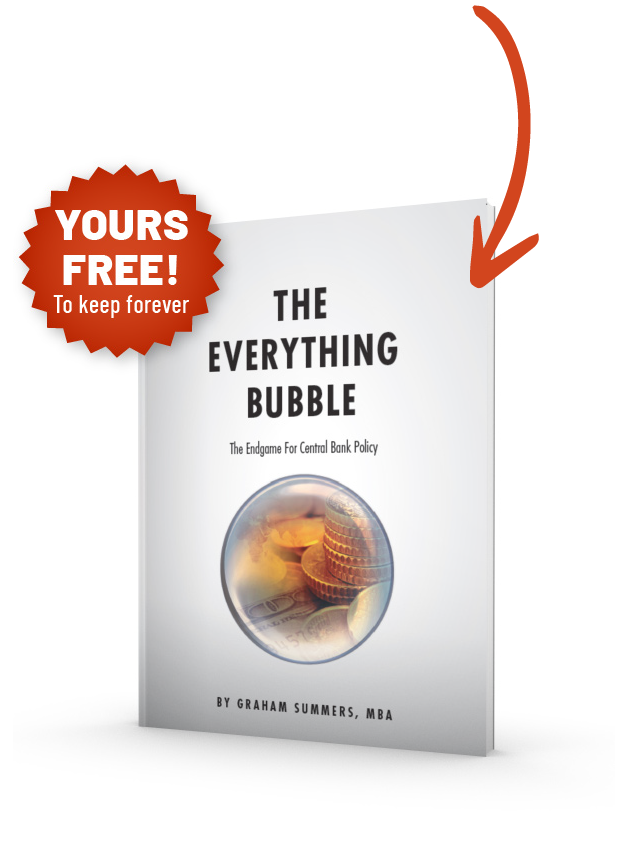 A moment ago, I mentioned my Amazon bestselling financial book…
It's called The Everything Bubble: The Endgame for Central Bank Policy.
And I'm going to give it to you — 100% FREE…
When you join Alpha Currency Profits today.
But let me just be crystal clear about something…
My point in giving you this book is NOT to convince you that we're on the brink of another major U.S. market crash.
It's simply to give you the basic knowledge of our financial system that all Americans should know, but don't…
So that you can make your financial life as resistant as possible to ANY crisis.
How does making certain trades on global currency moves fit into this goal, you're wondering?
Let me explain that with a simple analogy…
You've heard the expression, "It's five o'clock somewhere," right?
It means that at any given moment, it's happy hour somewhere on the planet…
So why not make it happy hour where you are, too?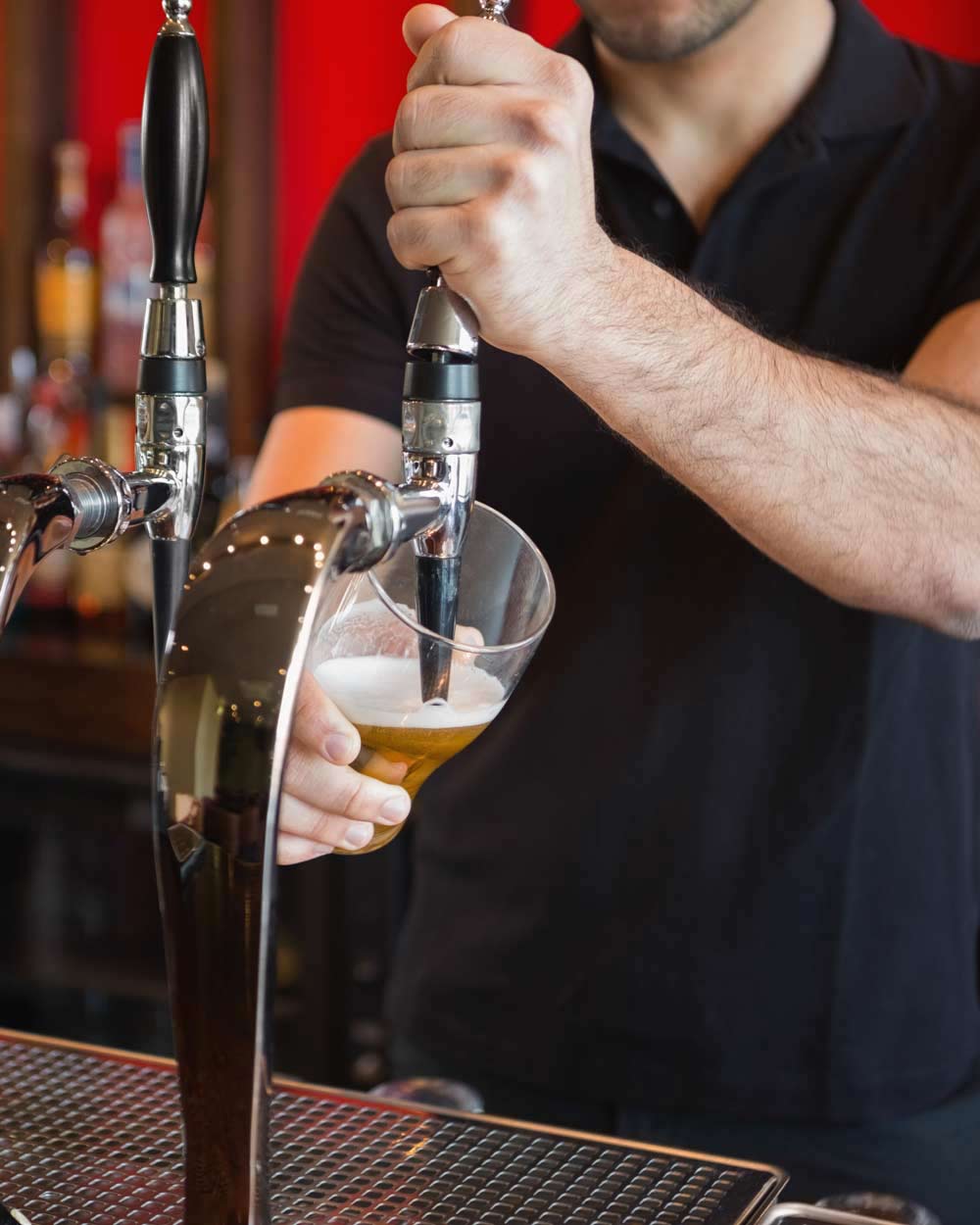 That's sort of how I view making money through the Alpha Currency Profits way.
Because currencies don't all move in lock-step with each other.
In fact, they tend to move inversely to each another…
Meaning when one goes up, another one (or more than one) often goes down.
Plus currencies just generally move independently of one another…
Based on conditions in their home nations, the actions of their central banks and other factors too.
You see where I'm going with this, right?
The point is that there's almost always a currency "happy hour" to play somewhere on the planet — no matter what's going on in your own backyard!
This is what I mean by making your portfolio "everything proof."
It's all pretty simple to understand, really…
Currencies fluctuate, central banks compensate, you can make money from it.
But the better you understand how financial systems work (especially ours)…
The better you'll be able to use the incredible breakthrough I've been showing you as both sword and shield…
As both an effective hedge — and an engine of profits — in virtually any calamity.
It's in this capacity that you'll find The Everything Bubble to be a valuable source of "macro" knowledge and insight…
And again, it's yours FREE when you join Alpha Currency Profits today.
Pretty cool, huh?
Now, here's something else that's cool about this new trading research service…
Alpha Currency Profits is NOT intended for hedge funds, Wall Street pros, banks or institutions…
In fact, I purposefully designed my Alpha System to be practically impossible for them to use!
Isn't that just awesome?
They literally CAN'T tap into my system's 92% data-tested accuracy…
Its double- and triple-digit wins up to 171% in an average of one week each…
Its potential for up to 1,756% annualized average portfolio profits…
Or its ability to find a new winning trade opportunity every 9.5 days, on average.
But if you join Alpha Currency Profits today, as part of this initial public rollout…
YOU could tap into all of this incredible moneymaking potential!
Why can't the Big Boys get in on all this insane performance?
The reason is easy to understand.
But in order to explain it to you…
I'll have to lay out the simple, singular profit strategy I'll use in this entirely new trading research service.
Here is it: The ONLY recommendations I'll ever make in Alpha Currency Profits…
Are short-term trades on a small pool of currency-tracking exchange-traded funds.
That's what my Alpha System is designed to find — and it's all I'll recommend in my new Alpha Currency Profits service.
We'll circle back to the "short-term trades" part in around 60 seconds…
But first, let's cover the ETF part of this equation.
Currency ETFs haven't been around long, and they've only really gone mainstream within the last decade…
Before that, the Forex "cowboy market" was your only choice for currency trading.
Now, however, there are dozens — if not hundreds — of currency ETFs you could choose to trade…
Quickly, easily and on the major exchanges. Just like shares of General Electric.
This, plus the fact that these ETFs typically track moves in their underlying currencies quite well…
Make them pretty much the perfect vehicles for folks like you to trade currencies.
But here's the thing: The small pool of nine currency ETFs I'll be exclusively focusing on in Alpha Currency Profits…
Are too small for Wall Street, hedge funds or big institutions to trade effectively.
They're plenty big enough for individual traders to get in on, though…
That means, as an Alpha Currency Profits reader — you'll have the playground to yourself, so to speak.
The Big Boy bullies of Wall Street and the big investment banks can't come in…
Because they can't fit through the gate!
Yes, that's totally by design, my friend…
It's my gift to you, as an Alpha Currency Profits reader.
And speaking of gifts I've got for you…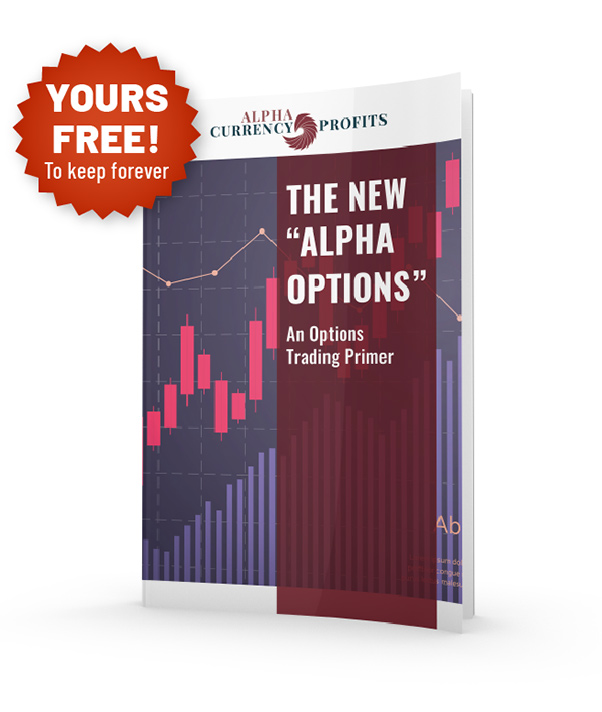 Leery of trading options? No more!
The game-changing Alpha Signal now makes it a total no-brainer…
And my new "Alpha Options" primer will bring you up to speed — FREE
I won't hide the fact…
Every example I've shown you in this bulletin is presented as an option trade on the underlying currency ETF.
And yes, all my recommendations in Alpha Currency Profits will be short-term options trades.
But DON'T let that scare you off…
Because with Alpha Currency Profits, you'll still have the ability to simply trade the ETFs themselves, if that's what you want to do.
Alpha Signals are equally predictive of profits that way, too.
But I'm telling you — no matter what you've read, heard or previously experienced with options…
My Alpha System's data-proven 92% win rate could make options trading a whole new, incredibly lucrative ball game for you.
In case you don't know, options are simply a way to tap into the profit potential in a security's price moves without buying the security itself.
What can make them as much as 50 times better is the fact that they're leveraged.
Now, leveraged plays have some huge advantages — but also risk.
So if you aren't willing to roll with a few losses, this may not be the strategy for you.
But again, in exchange for these somewhat greater risks, there is the potential for multiples of your base investment…
Up to 10, 20, even 50 times as much profit, or more!
Here, I'll prove it. Remember this example trade from the beginning here?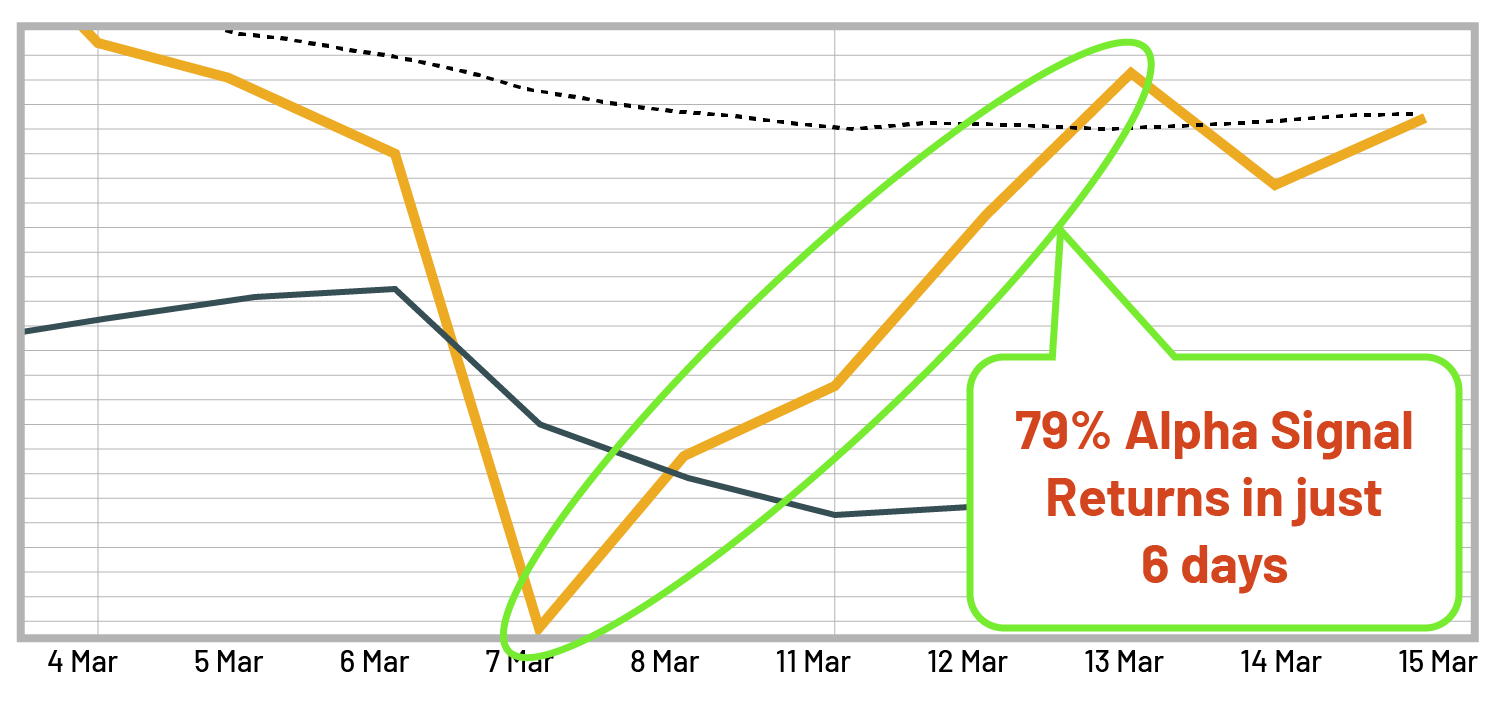 This was a "call" option trade scenario — the type you'd use to play a rising price…
And it could've paid out peak 79% profits in the six days that elapsed between the Alpha Signal and the "sell" trigger.
Playing the ETF itself on these same dates, however…
Would only have paid you around 1.4% on your money.
So in this case…
This call option could've paid out over 56 times more profit than just the ETF itself!
One more quick comparison from earlier — you remember this example, too?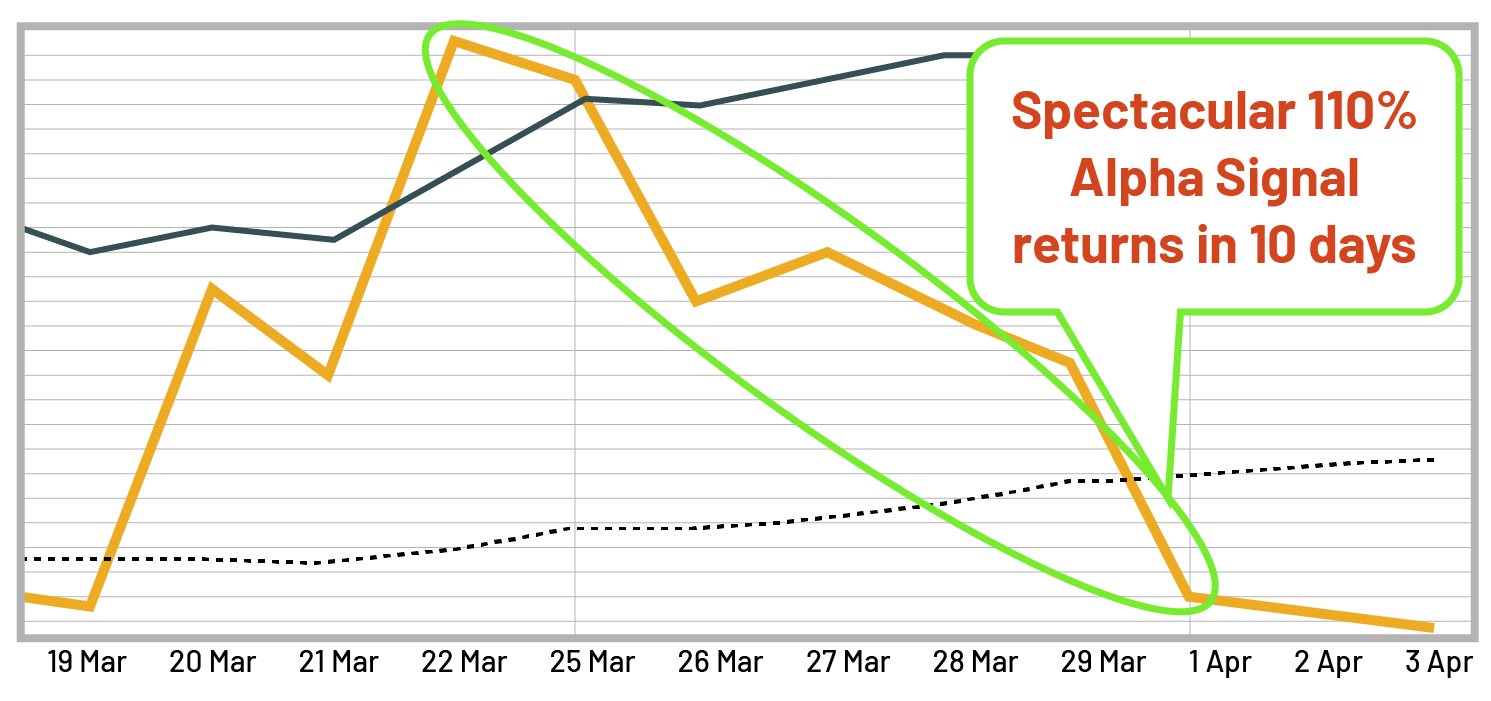 It shows excellent 110% peak profits, but from a falling price in the underlying security.
In other words, you'd have lost money by simply buying the ETF in this case.
But with easy-to-execute "put" options — which are used to play declining prices…
You could have more than doubled your money in 10 days on this particular price move.
See what I mean?
Done right, options let you trade both ways…
While still having the potential to score you comparatively HUGE profits.
It's super-simple to trade puts and calls, too…
And to mitigate the specific downside risks that are unique to them.
This is especially true if you get some good instruction right from the beginning.
That's where my new options trading primer guide comes in…
It's called The NEW "Alpha Options" — and it includes valuable basics like: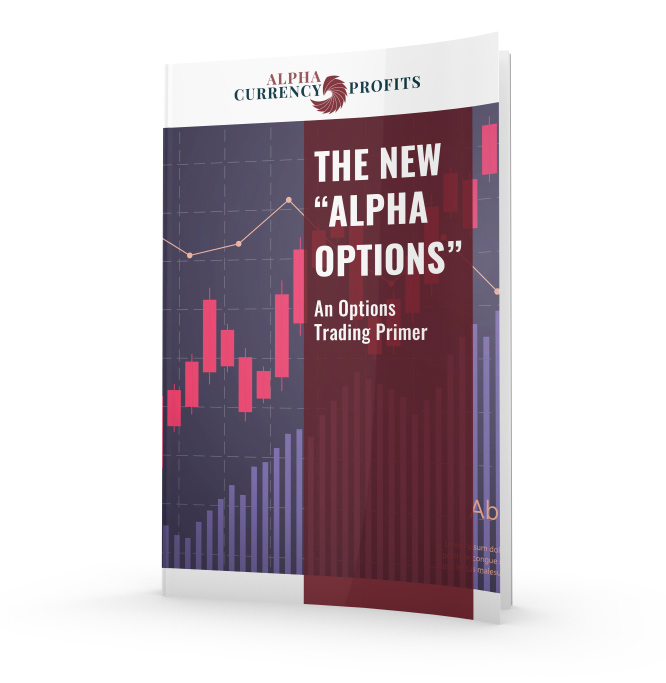 What options are, in layman's terms
The two types of options ("puts" and "calls")
How a basic options trade is executed (it's easy)
Hypothetical "walk you through" trade scenario
A real-world example of an Alpha Signal option play
The risks of playing options, and how to minimize them
Important terms, key concept overviews and much more…
My all-new guidebook will show you everything you need to know to get started with ultra-lucrative options trading the "Alpha System" way…
Without clogging up your mind with a bunch of theoretical crap you don't need to worry about.
Why is it so important to me that you have the option of trading options?
Frankly, it's because my new Alpha System makes the decision to trade them a complete no-brainer…
And with my primer guide, The NEW "Alpha Options" in your pocket…
Now there should be NO reason at all not to at least try options trading.
I promise you — once you've done it my way, with the revolutionary new Alpha System doing the heavy lifting for you…
You'll be so glad you gave options trading a chance.
You might even raise a glass to toast me from your
new yacht in the French Riviera. Don't laugh…
It could totally happen — if you become an
Alpha Currency Profits reader today, without risk!
As I touched on before…
This bulletin, right here, is the official public rollout of my new Alpha Currency Profits trading research service.
And fair warning: Because this is the first time anyone's ever seen this new service…
I'm about to spring a "no risk" offer on you that'll make joining pretty much impossible to resist — but we'll get to that in a sec…
First, let me just quickly take you though everything you'll get with your membership to Alpha Currency Profits.
It's actually a very straightforward bundle of benefits you get with this service.
They are:
Alpha Currency Profits Weekly Dispatches — Delivered to your email inbox every Wednesday morning, here's where I'll bring you up to speed on emerging currency trends, "macro" events and other potentially lucrative developments…

Plus possible near-future Alpha Signal profit opportunities, overviews of current active service recommendations, recaps of recent trades and more.

Alpha Currency Profits Urgent Opportunity Alerts — These will appear in your inbox whenever an Alpha Signal "buy" trigger or average-reversion "sell" trigger develops in any of our target ETFs…

Fair warning: These will NOT come to your inbox on any set schedule. If you choose to trade these critical events, time will be of the essence for optimum potential profits.

Alpha Currency Profits Live Event Series — In each of these periodic 30-minute events, I'll cover a relevant topic of immediate interest to members…

And if you're listening to these on a computer, you can even type in questions that I'll do my very best to answer on the spot (as long as they're not seeking personal profit advice).
And don't forget about your two FREE bonuses, too…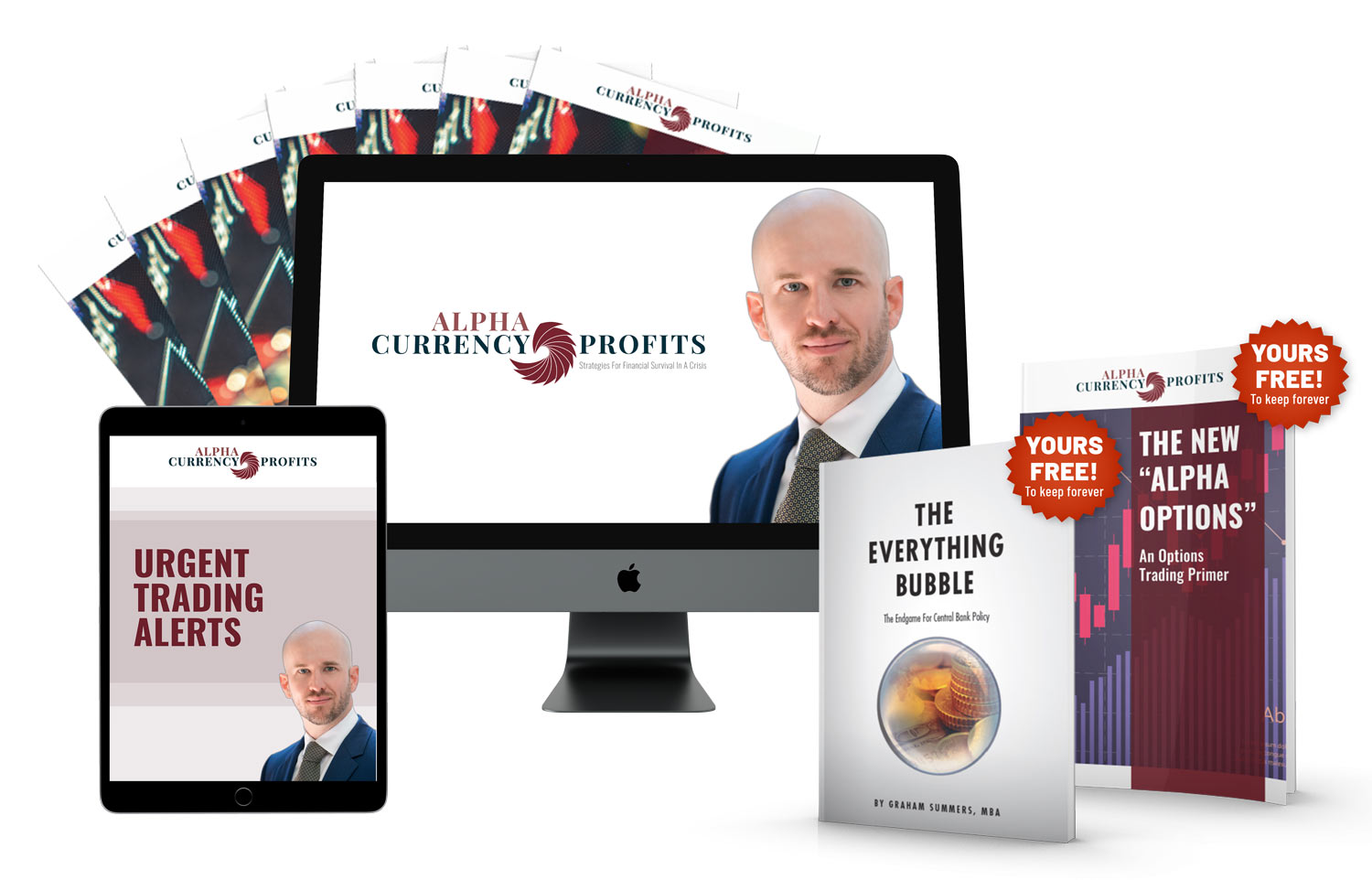 My bestselling book and my new options-trading primer guide!
You'll get it ALL once your membership to Alpha Currency Profits is confirmed (which only takes five minutes).
I'm sure you'll agree — that's a whole lot of support to get with a research service…
At ANY price.
But here's the thing…
The price is actually the best part of this whole deal…
If you move quickly enough to take advantage of this
one-time-only "Early Bird Special" offer
You might remember a couple minutes ago…
When I told you that this bulletin, right here, was part of the first official public release of Alpha Currency Profits.
That means YOU are one of the very first people to ever have the opportunity to join this breakthrough trading profits research service.
And because this new service is so potentially life-changing for you…
I wanted to make sure you had a window of opportunity to join Alpha Currency Profits at a price that's easily within anyone's reach.
That's why I lobbied my publisher, Laissez Faire…
To offer you an ultra-low-priced "Early Bird Special" membership deal to the first 500 people who join this service today.
Why only 500?
Because frankly, that's the most spots I could negotiate (I tried for 1,000 and failed).
That's because Laissez Faire recognizes the incredible financial value this new Alpha Signal represents, in a discovery sense.
They also realize the gobs of money Alpha Currency Profits readers could make…
With the help of my Alpha System, which has shown to be over 92% accurate at finding fast win opportunities of up to 171% — every 9½ days on average!
And I have to say, I totally agree with them.
This incredible thing I've discovered and created IS worth a fortune…
Heck, I've seen people pay millions for systems that I don't think could hold a candle to this breakthrough!
Look, here's the bottom line: My publishers at Laissez Faire have set the official list price of Alpha Currency Profits at $3,000 a year…
And they're reserving the right to raise this price to $5,000 annually in the future.
Take heart, though — because if you move with a purpose here…
You'll only pay $1,500 a year for Alpha Currency Profits —
that's HALF the full list price…
Plus you'll get 90 full days to decide, risk-free
and 100%-money-back guaranteed
Yes, you're hearing that right…
Half-price, with three full months to get ALL your subscription money back.
Mind you, this incredible half-price Early Bird Special deal is NOT on some stripped-down version of Alpha Currency Profits…
It's for the full-boat membership — with all the great benefits, perks and freebies I showed you before (including my book).
And there's no fine print to the money-back guarantee, either.
If you don't like Alpha Currency Profits for ANY reason within the first 90 days…
Simply let Laissez Faire know, and they'll give you ALL the money you paid for it back, pronto.
Just to be crystal clear: No refunds will be given after this 90-day period. That's more than enough time to decide if Alpha Currency Profits is for you.
Full contact and guarantee redemption information will be in your Welcome Kit…
Which you'll receive electronically, mere moments after you sign up.
It's as simple as that.
I must reiterate, though…
This incredible half-price, no-risk, Early Bird Special deal is only for the first 500 people who join TODAY
I implore you…
If you have ANY interest at all in trying my new Alpha Currency Profits trading research service — now is your moment.
You'll never get another opportunity to join this service that's anything like this one.
And if you wait, I'm certain you WILL miss out on this incredible deal.
I mean, think about it…
As I've just proven beyond any possible doubt, Alpha Currency Profits could help lead even a total novice trader to:
An average long-term, data-proven win rate of over 92%
A real-time tested average profit of 78% per winning trade
Single-trade wins of 42–171% in an average of seven days each
An average of one winning trade opportunity every 9.5 days
Average potential annualized portfolio returns of up
to 1,756% or more
Plus right now, it's available for half price — just $1,500 a year…
And it's all backed up by an ironclad 90-day full-money-back guarantee!
So I ask you: With over 400,000 Laissez Faire readers potentially seeing this exact same offer right now…
How long do you really think it's going to take for 500 people to scoop up this incredible deal?
An hour, maybe? I'm betting less.
Oh, and one more thing I just want to make double-sure you're clear on…
This incredible $1,500-a-year rate is NOT an "introductory" price.
If you claim one of the 500 spots available in this Early Bird Special offer today…
You'll get this half-price rate every year, renewed automatically, for as long as you remain a member of Alpha Currency Profits.
So if you're ready to give this groundbreaking new service a try…
Money-back guaranteed, and for less than the cost of a decent set of tires…
Just click the blue link below now, the one that says "subscribe now" on it.
Subscribe Now
Don't worry — clicking this button does NOT commit or obligate you in any way.
It just takes you to a simple, secure ordering page…
Where you can review all the terms again and make your final decision.
If you decide to join Alpha Currency Profits — and you should, if you like money…
It'll only take you five more minutes from here.
So go ahead, click the blue button below…
Or if you'd prefer, you can sign up by phone at 844-748-9695 during normal business hours, Eastern time.
But whatever you do, I urge you in no uncertain terms to do it NOW.
Because this moment, right here, might literally be your only chance to take advantage of this incredible half-price deal…
On the trading profits breakthrough that really could change your life, fast.
Come on, give me a chance to help make you rich.
Try Alpha Currency Profits on for size — it's only $1,500 if you move fast…
And you've got three months to get all that money back if you decide it's not for you.
Don't kick yourself later, when the price goes up to three grand a year.
Click the blue button below or call us NOW…
Subscribe Now
And let's get rolling with some big, fast Alpha Signal profit opportunities, huh?
Yours truly,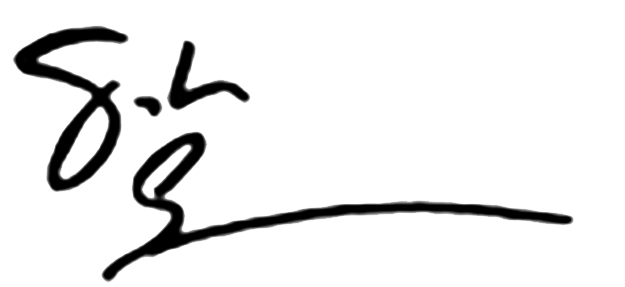 Graham Summers, MBA
July 2019